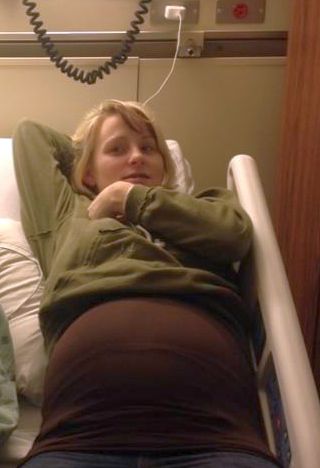 Rumors that Teen Mom 2 star Leah Messer Calvert was in labor started after she posted a telling tweet on her Twitter on Superbowl Sunday.
"Yes, the time is near… Can't wait to meet you little Miss Calvert !"
The next day, InTouch Weekly posted an exclusive story in which a "close family friend" confirmed that Leah had, indeed, given birth to her third child, a little girl.
"Leah gave birth in the early hours of this morning (Feb. 4) to a beautiful baby girl," the source told the magazine. "Mother and baby are happy and healthy. Leah went into labor late last night, and the baby was born this morning."
The Ashley, never one to trust certain tabloids, took it upon herself to get confirmation that Leah did have the baby. The Ashley's sources have confirmed that the baby girl did arrive early yesterday morning!
Although no name has been released, The Ashley predicts that Leah and her husband, Jeremy Calvert, will surely collaborate with one of the tabloids for a "Meet My Baby" story in the near future.
The little girl is Leah and Jeremy's first child together, and Leah's third kid. (Just for the record, this is not the baby that was discussed in last night's Season 3 finale. Unfortunately, that pregnancy ended in a miscarriage in early 2012. Leah became pregnant again in the spring of 2012.)
Congrats to the Calvert family!
Update: According to In Touch, Leah and Jeremy named their daughter Addalyn!
(Photo: Facebook)