Last year, The Ashley wanted to know what it was really like to be a contestant on The Bachelor/ Bachelorette so she interviewed a few former contestants and did some research to get the inside scoop. (Click here to read the first "Bachelor FAQ" article!)
That article proved to be a big hit with you Roundupers, so The Ashley decided to dive even further into what happens behind the scenes of this show! Every time The Ashley watches this show, she writes down all of her burning questions. Below are the answers to a few of the questions that have popped into The Ashley's head over the last few seasons.
Got a question you want an answer to? Leave it below in a comment and maybe The Ashley will answer it for you!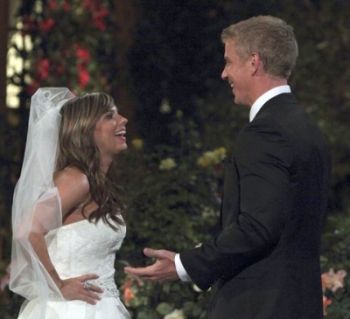 Q: Do the producers make the girls do crazy things to get the Bachelor's attention?
A: "Some of the girls were really over the top. [The producers] encourage that, but the girls also do that on their own because they want to get noticed by the cameras or Bachelor," former contestant Erica Rose told The Ashley during a 'Bachelor' event in January.
"I was in the first limo, and I was really nervous and I hadn't really come up with anything funny to say or anything creative to do when I first met Ben," added Casey Shteamer, another former contestant. I always thought it was kind of weird when people did that so I didn't want to do it. It just feels a little forced."
Q: Do the girls seriously just sit around the house and drink and talk about the Bachelor all day?
A: "A lot of people drink. If you are smart you don't drink that much! I was in the middle," Ali Fedotowsky revealed in an interview with A Drink With Chicago. "I remember there were times we'd start talking about something that wasn't related to the bachelor, like where we worked and the producer would come in and say, 'Come on guys, wouldn't you rather talk about how hot Jake is?' And we'd be like, 'Really?!' You're always encouraged to talk about the bachelor. It almost felt like we were rewarded if we did. It's a very strange situation."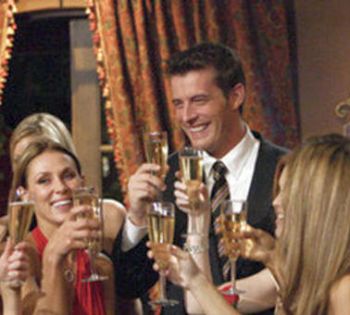 Q: What don't we get to see on camera?
A: "You don't get to see a lot!" former contestant Molly Mesnick told The Ashley at a 'Bachelor' event in January. "There's no workout room here, but there's a hill in the back that girls would run up to exercise. You can't watch TV, there's no Internet, there are no magazines, none of that. You can't talk to your families, you are totally cut off from the real world.
"To transition from being totally cut off from the real world and putting totally immersed in the show, and then to go back to work and sitting at a cubicle at a computer a week later, that was hard."
Q: Do the producers have a say in who the Bachelor/Bachelorette sends home?
A: Sometimes, according to Ali Fedotowsky, who revealed on her E! Online blog that producers would sometimes ask her to bring certain guys on her two-on-one dates.
"My guess is that the producers asked Sean to bring both girls on this date," Ali wrote in regards to current 'Bachelor' Sean Lowe's two-on-one with Tierra and Jackie. "I'm not so sure he cared who went home. At least that's how it worked on the two-on-one date on my season. I brought Kasey and Justin and I knew neither was right for me, so I asked the producers to pick. Justin was the one chosen to stay. I didn't know at the time, but I think it's because he had a girlfriend at home and the producers knew that was going to play out in the next episode. Let me be clear that producers don't always choose, but when it didn't matter either way to me, I was happy to let them decide."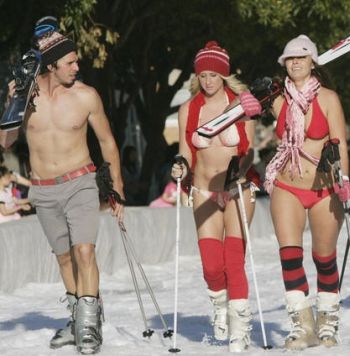 Q: Do the girls have to participate in all of the activities on the dates?
A: The girls are required to participate in all of the activities, per the eligibility rules they agree to before going on the show. If they get hurt, they aren't allowed to sue the show, its producers, or the network. However, there are exceptions to this rule, as we saw when Selma declined to do the dangerous Polar Plunge activity.
"Applicants must be willing and able to participate in physical activities such as: skydiving, snow skiing, ice skating, parasailing, water skiing, rollerblading, and the like," the eligibility rules state. "Applicants must sign a release attesting to the fact that the applicant understands and knowingly and willingly agrees to assume such risks."
Q: What really happens in those fantasy suites?!
A: "I will say this much, I only got physical with one person," Ali Fedotowsky told A Drink With Chicago. "I think it's pretty obvious who that was! For me, it was a little bit different. I had one guy I was really into, one guy I knew was just a friend and then the third guy left me. So would I have gotten physical with more than one guy if he would have stuck around? Probably. Are you going to get engaged with someone not knowing what they are like in bed? No!"
"Mike Fleiss, the creator of the show, said Bob Giuney had sex with like 16 girls or something on the show! I heard he went in the bathroom during dates to have sex with the girls," she added.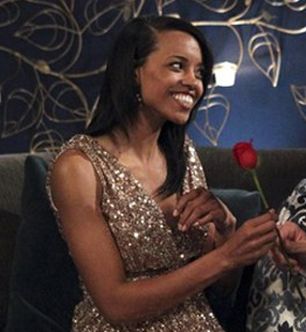 Q: Why did the Bachelor suddenly decide to add minorities after having none for years?
A: "It was definitely done on purpose for our Bachelor. Sean has dated across the spectrum; that's something that very much doesn't matter to him and, in fact, he likes being diverse," Chris Harrison told TV Guide.
Of course, this little, um, hiccup may have had something to do with it too.
Q: How does the Bachelor/Bachelorette remember all of the contestants' names at the rose ceremonies?
A: According to Ali Fedotowsky, the Bachelor or Bachelorette gets some help from the production team when it comes to making sure they say the right name.
"Throughout the night a producer is never far from your side and constantly reminds you about everyone's name. She (the producer) has flash cards with the pictures and names of every contestant. It is hard to remember everyone, even with the flash cards. It's all so overwhelming. the Bachelor/ette goes into the rose ceremony room and says a few names at a time and then leaves to get the next few names," she wrote on her E! Online blog.
"Everyone's nervous at their first rose ceremony, so we make it real easy for them, and we break [shooting] up into three to five people at a time," Chris Harrison said in a 2009 interview with E! Online. Then we'll stop, just to make sure we don't run into any mistakes. We don't want a [microphone] in his ear, we don't want cue cards, we want it as natural as possible."
In the early seasons, the Bachelors/Bachelorettes didn't have this helping hand. Every 'Bachelor' fan remembers the shocking rose ceremony in which 'Bachelor' Jesse Palmer accidentally said the wrong name of a girl. (I looked for the clip of that, but it's strangely nowhere to be found!)
Q: Do the girls/guys on the show have any say over what gets put on the air?
A: None whatsoever, which is standard with almost all reality shows and their stars. In fact, any contestant that goes on the show has to agree to allow the producers to reveal information about them that, "may be embarrassing, unfavorable, humiliating, and/or derogatory and/or may portray him or her in a false light," according to the show's official eligibility rules.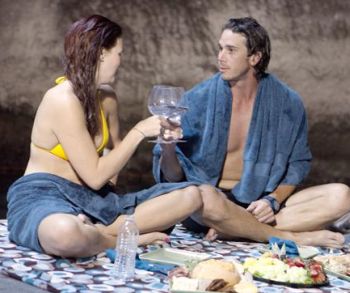 Q:  Why doesn't the Bachelor or the girl he's on a date with ever eat the dinner?!
A: Apparently, the contestants are so focused on getting their romance on, there isn't much time for stuffing their face, according to Ali Fedotowsky.
"There is food on camera, people just usually don't eat that much on camera because you are so focused on the date. I remember food always getting cold on my dates because we were mostly focused on getting to know each other. Your time with the Bachelor is limited. You don't want to waste it eating. You want to get to know him and let him get to know you! But as soon as the date is over, you stuff your face! At least I did."
Q: Is anyone allowed to try out for the show or do they restricted it to certain kinds of people?
A: According to the show's official eligibility rules, all women (or men) trying out for the show must be:
At least 21 years old
Single (and, so there's no confusion, they provide a definition of the word for contestants right there in the application. According to 'The Bachelor' the word 'single' means: not currently involved in a committed intimate relationship, which includes any marital relationship–whether or not the parties are separated or currently in the process of divorcing or annulling a marriage. They also can't be in living with someone they're having a physically intimate or monogamous relationship with for more than two months. I guess that makes the occasional booty call OK?)
Free of any felony convictions or restraining orders against them
Willing to submit to the required physical and psychological examinations and testing
They must also allow producers to do extensive background checks on them (including criminal, background, credit, etc.) Producers are also allowed to seek out the contestant's former neighbors, teachers, employers, etc. and interview them for dirt on the applicant. Contestants must also fill out a complete medical history, and producers have the right to use any of that information (in addition to other things such as sexual history) on the show.
Got a question about 'The Bachelor' or 'The Bachelorette' you want answered? Leave it in a comment below!