Do you recognize this cute tween girl? Before she was on a hit reality show, she was just a Southern girl that liked to hang out with her friends. Although she still enjoys doing that, these days she's got a lot more on her plate! When she's not filming her reality show, she's a busy wife and momma.
Can you guess who this gal grew up to be? Click below to find out!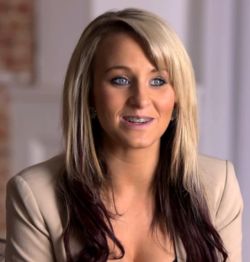 It's Teen Mom 2 star Leah Messer Calvert! These days, Leah is busy taking care of her twin daughters, Ali and Aleeah, as well as her newest addition, a daughter she gave birth to last week!
We first met Leah on the second season of 16 & Pregnant, and then followed her story through the birth of her twins, a wedding, a divorce, and now another wedding and another baby. Although 'Teen Mom 2' appears to be done filming, fans are still eager to see what Leah will do next!