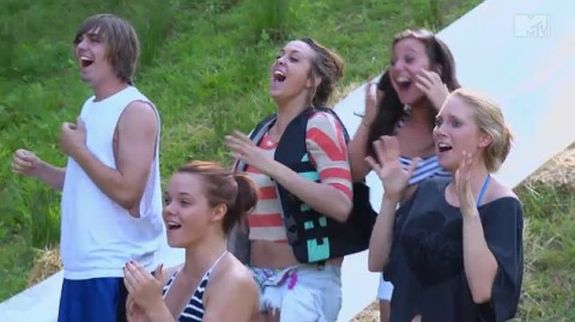 Like them or not, it looks like the dirty Daisy-Duke-wearin', dump-truck-swimmin' kids of the new MTV hit show Buckwild are here to stay!
Cara Parrish, one of the breakout stars of the hillbilly hit, took to her Facebook page to announce that the show had been picked up for a second season.
"Thank you to everyone who gave the show a chance to prove how amazing and hilarious my friends are," she wrote. "It's been a wild ride but I wouldn't take back a minute of it. With that said I'm unbelievably excited to announce MTV IS GIVING US A SEASON TWO!"
It's no surprise that MTV decided to renew the show. The crazy antics of the West Virginia teens have drawn a surprising amount of viewers (over 2 million for some weeks!) and is frequently the top-rated cable show on Thursday nights for the 18-34 demographic. MTV brought in 'Buckwild' and that other new show (that no one watches), Washington Heights, to help retain the Jersey Shore audience.
The Season 1 finale airs tomorrow, followed by the 'Buckwild: Unseen Moments" special. According to an MTV press release, "Following the season finale, viewers can check out "Bucking Unseen Moments" at 11:00 p.m. ET/PT. In this 'Buckwild' special, Shain, Joey, Cara, Anna, Tyler, Salwa, and Shae will take viewers through some outrageous and hysterical never-before-seen footage, from the guys "bucking" around on anything on wheels to the girls showing their mischievous and lighthearted side."
Looks like we'll get to see more hi-jinks from the Sissonville nine very soon!
To read The Ashley's recap of the premiere episode of the show, click here.