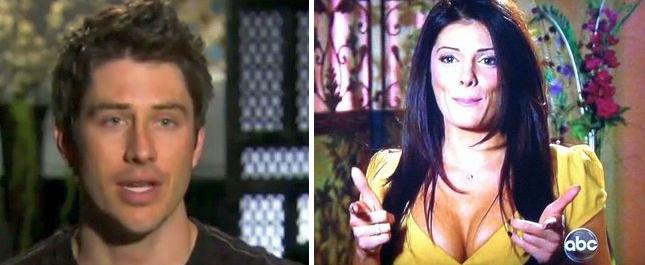 Arie Luyendyk Jr., the kissing Casanova that first appeared on The Bachelorette during Emily Maynard's season, seems to be making his way through a sea of 'Bachelor' franchise rejects!
In Touch magazine has just broken the news that Arie, who was dating Ben Flajnik's former fiance from the show, Courtney Robinson until last month, is now getting freaky with Selma Alameri, who got the boot from Sean Lowe earlier this season.
Selma, who you may remember is the former Muslim that didn't want to kiss Sean on camera, has apparently visited Arie in his home state of Arizona.
"He's hanging onto fame," a source told the magazine. "Of course, he's dating someone from the show!"
Selma (and her giant knockers) appears to be completely over Sean and her fear of being seen kissing in public. We all know how Arie loves to get his smooch on! Although neither Selma or Arie have confirmed their relationship (yet), they are active on each other's Twitter accounts so it's likely only a matter of time!
(Photos: ABC)