This post was last updated in March 2016!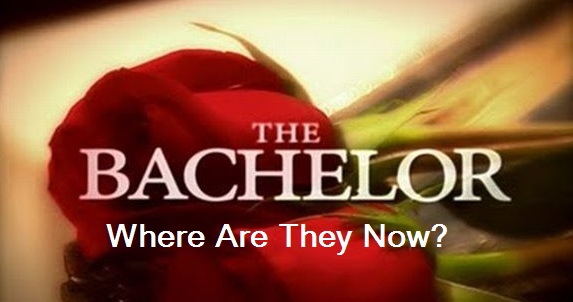 NOTE: This story all information is current (to the best of The Ashley's knowledge as of March 2016!
Many of you Roundupers were curious to know what's become of the women who have "won" The Bachelor in years past.  To date, only one 'Bachelor' star (Season 17's Sean Lowe) has married the woman he chose at the end of his season, but many other Bachelors have become engaged during their seasons, only to have their relationships crumble after the show.
While some of the winning ladies of 'The Bachelor' have made an effort to stay in the spotlight, others have done their best to distance themselves from the franchise.
Here's what's happened to the women who won 'The Bachelor' since we last them….
(Season 1 Alex) : Amanda Marsh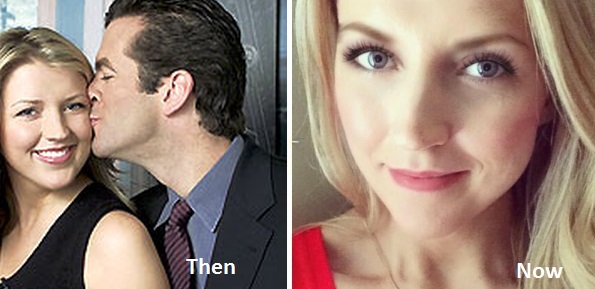 THEN: Original 'Bachelor' Alex Michel chose Amanda Marsh at the end of the first season of 'The Bachelor;' however he didn't propose, and the couple split after a few months. After the 'Bachelor' hype died down, Amanda avoided the spotlight, except for a brief stint as a DJ at a Kansas City radio station. In 2005, she got engaged to a salesman but they broke up before they could get married.
TODAY: Today she is a registered nurse and is married to a man named Jay. She lives in Kansas and gave birth to a daughter, Chloe, in March of 2010.
(Photos: ABC/ Facebook)
(Season 2 Aaron) : Helene Eksterowicz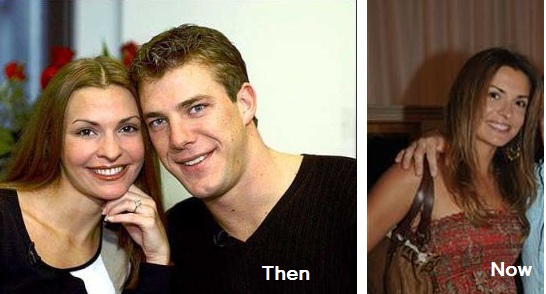 THEN: Helene was the first woman that ever received a proposal on 'The Bachelor.' Aaron Buerge got down on one knee and proposed to her at the end of season 2. Helene accepted, but their relationship ended a few weeks after the show aired.
"After this all didn't turn out, I am taking things a bit slower," Helene told People magazine in 2004. Later that year, she released a book with fellow 'Bachelor' contestant Gwen Gioia (who later starred on 'Bachelor Pad') called Nobody's Perfect. The book's subtitle was "What to do if you've fallen for a jerk but you want to make it work."
TODAY: She worked as a model in Philadelphia for a while and is now a psychologist at an elementary school in New Jersey.  In August 2013, she married IBM technology consultant Andrew Goodman. The couple has no children.
(Photos: ABC/Facebook)
(Season 3 Andrew) : Jen Schefft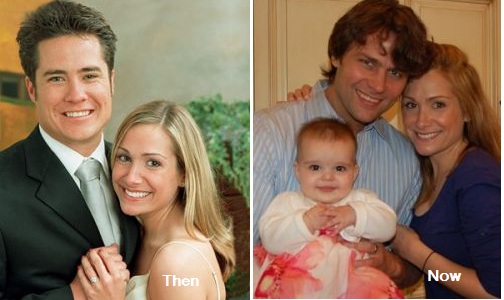 THEN: In 2002, rich hunk Andrew Firestone chose Jen to be his wife. However, the couple broke up after a few months but remained friends. Afterward, Jen was chosen to be the third 'Bachelorette.' She chose Jerry Ferris at the end of her season. Jerry proposed but Jen rejected his proposal, leaving fans stunned.
TODAY: Jen published a book in 2007 called Better Single Than Sorry, which discussed what it's like to be single and over 30 in America. Wanna order the book? Click here.
In 2009, she married public relations executive Joe Waterman and moved to Chicago with him. She gave birth to their daughter, Mae, in November 2010. In July 2011, she and her husband welcomed their second child, a daughter named Charlotte Grace. Jen and her family currently live in Illinois, where Jen works in PR. She has stayed out of the spotlight in recent years, and doesn't attend 'Bachelor Nation' events.
(Photos: ABC/Twitter)
(Season 4 Bob) : Estella Gardinier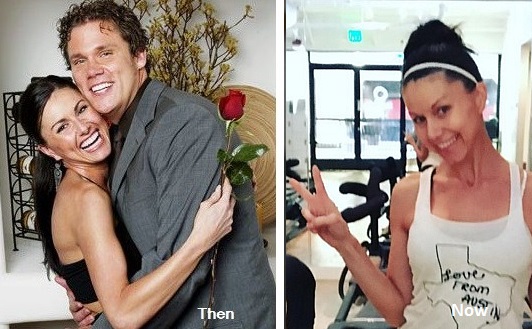 THEN: Bob gave Estella a promise ring at the end of Season 4 in 2003. He did not propose but wanted to continue to date her. Unfortunately (but not surprisingly, of course) they broke up shortly after the show aired.
In 2004, she told People magazine that she got $22,300 for her $45,000 'Bachelor' diamond ring and used the money to buy a house for her mom. (Nowadays, the girls are required to return the rings to the show's producers if their relationship ends before the two-year mark.)
TODAY: These days, Estella is living in San Diego, where she teaches fitness classes. She recently celebrated her 40th birthday.  She is the founder of ProjectLoveYou, which aims to help prevent suicide.
(Photos: ABC/Facebook)
(Season 5 Jesse) : Jessica Bowlin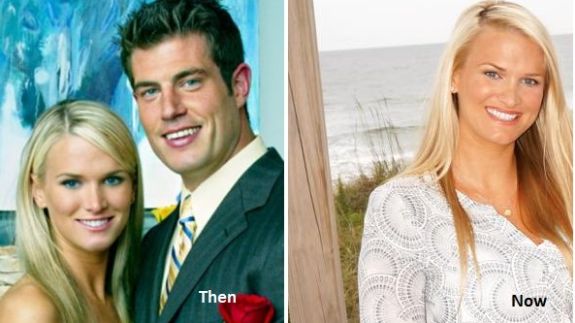 THEN: At the end of Season 5 in 2004, NFL football player Jesse Palmer chose Southern California law student Jessica, even though he did not propose. They only lasted a few months.
TODAY: After the split, Jessica dodged the spotlight and avoided anything 'Bachelor'-related. She graduated from East Carolina University in North Carolina and Chapman University Law School and was admitted to the State of California Bar in December 2007. She currently practices law for the District Attorney's Office in Los Angeles. In February 2013, she married a man named Omar and the couple now has a young son named Brady. In January 2016, Jessica and her husband welcomed a daughter.
(Photos: ABC/Facebook)
(Season 6 Byron) : Mary Delgado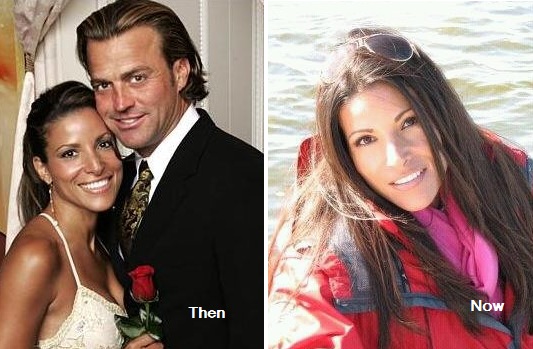 THEN: In 2004, "mature" 'Bachelor' Byron Velvick proposed to Mary to the delight of viewers, who hadn't seen a 'Bachelor' propose for two seasons. Mary and Byron lasted longer than nearly every other 'Bachelor' couple to date, finally breaking up in 2009 after five years together (and a few domestic violence charges, naturally).
TODAY: In addition to doing various hosting gigs and public appearances since her 'Bachelor' time, Mary caught the fishing bug from professional fisherman Byron and fished competitively for awhile. She now works in the Florida real estate market. She no longer speaks with Byron, but appears to still be a fan of 'The Bachelor.' On December 31, 2015, Mary married a man named James in Cuba, which is where she was born.
(Photos: ABC/Facebook)
(Season 7 Charlie) Sarah Brice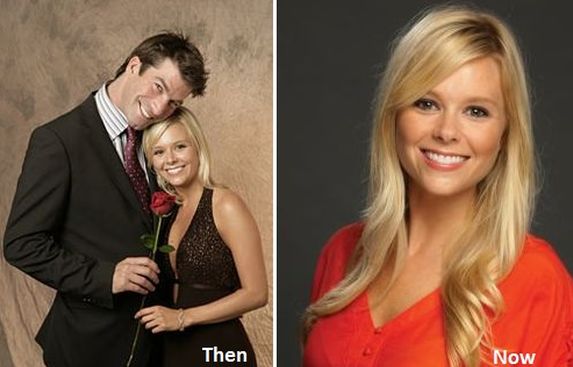 THEN: Charlie chose Sarah Brice at the end of Season 7 in 2005. Even though he didn't propose, their relationship lasted two years, with them calling it quits in 2007, allegedly due to Charlie's excessive drinking. Charlie got sober and Sarah got back with him in 2008; however they broke up for good in 2010.
TODAY: Sarah got married to a man named Brandt in May 2012 and gave birth to her first child, a boy she named Jack, a month later. In January 2014, she welcomed son Lewie and in August 2015, she gave birth to her third son. Sarah is a Registered Nurse and works at home for a medical supply company. She is also the co-owner of a party supply company. Sarah and her family currently live in Dallas.
(Photos: ABC/Twitter)
(Season 8: Travis) Sarah Stone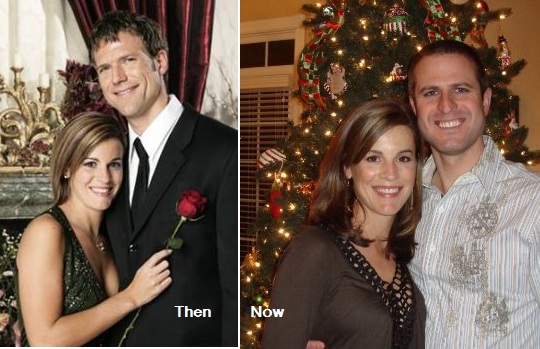 THEN: Dr. Travis Stork chose kindergarten teacher Sarah Brice at the end of Season 8 in 2006. He presented her with a ring, but did not propose. Although the two Nashville residents seemed like a perfect match, they ended up lasting only a few months. After splitting with Sarah, Travis would go on to star on 'The Doctors.'
TODAY: Sarah is no longer a kindergarten teacher. After 'The Bachelor,' she became a real estate agent in Nashville. She got married and she and her husband Brock have two young daughters.
Sarah was kind enough to write to The Ashley in late 2012 and to discuss her experience on 'The Bachelor!'
"It was such a fun experience to look back on," she said of her time on the show. "My life is all about play groups rather than group dates now. [It's] funny how quickly things change."
(Photos: ABC/Facebook)
(Season 9: Lorenzo) Jennifer Wilson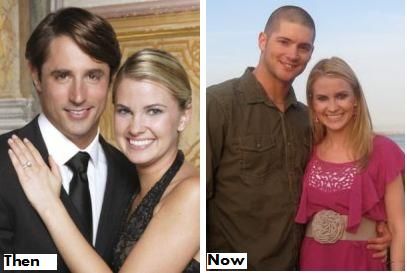 THEN: "Prince" Lorenzo Borghese selected teacher Jennifer Wilson at the end of his season in 2006. He did not propose but they continued to date for a little while. Shortly after the finale aired, Jennifer was accused by The National Enquirer of cheating on Lorenzo with a coworker. They split soon after and Lorenzo began to date runner-up Sadie Murray. (Maybe that's where Jason Mesnick got the idea!?)
TODAY: Jennifer was kind enough to give The Ashley an update on her life as of May 2014:
"I am happily married to Lee Gerschutz; he is from Ohio and we met years after 'The Bachelor: Rome,'" she said. "We live a quiet, happy life…"
Jennifer and her husband are the parents to two children. The family lives in Ohio. Jennifer has distanced herself from the spotlight and the 'Bachelor' franchise over the years.
(Photo: ABC/Courtesy of Jennifer Gerschutz)
(Season 10: Andy) Tessa Horst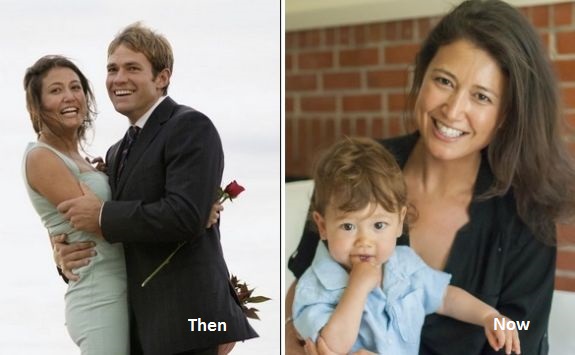 THEN: Super-hunky 'Bachelor' Dr. Andy Baldwin proposed to Tessa Horst at the end of Season 10 in 2007. One month after the finale aired, the couple announced that they were no longer engaged but were still together. Their relationship lasted about eight months.
TODAY: Tessa married Tom Pickard on February 16, 2013 in Carmel, California. Tessa works as an infant development therapist in San Francisco, while also working as a clinical supervisor at A Better Way. Tessa and her husband are the parents of a young son.
(Photo: ABC/Facebook)
(Season 11: Brad) Brad didn't choose anyone.
(Season 12: Matt) Shayne Lamas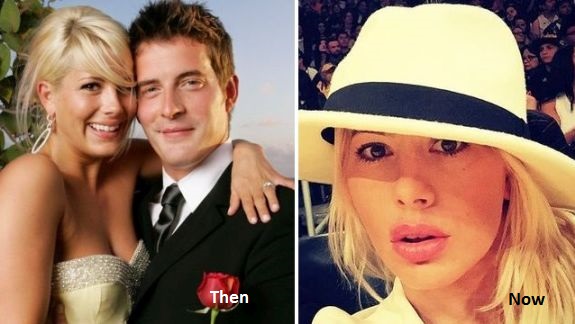 THEN: Many 'Bachelor' fans could see that Shayne Lamas was more in love with fame than she was with 'Bachelor' Matt Grant back in 2008. Even so, Matt proposed to Shayne at the end of Season 12. She accepted his proposal, but the couple broke up shortly after the finale.
TODAY: In 2009, Shayne was arrested for DUI (she later pleaded guilty to a lesser charge). She landed a few acting roles including a part in a horror movie called "In the Pines." In April 2010, she met and married Nik Richie, who runs the website TheDirty.com. The couple only knew each other a few hours before they got married, but they've managed to last longer than most of the couples on this show so they must be doing something right!
Shayne gave birth to a daughter named Press in November 2011. A year later, she and Nik appeared on VH1's 'Couples Therapy.' In February 2014, Shayne suffered a tragic miscarriage that nearly killed her. Read all about that here. Shayne and Nik welcomed a son (via surrogate) named Lyon Lamas-Richie in July 2015.
(Photos: ABC/Twitter)
(Season 13: Jason) Melissa Rycroft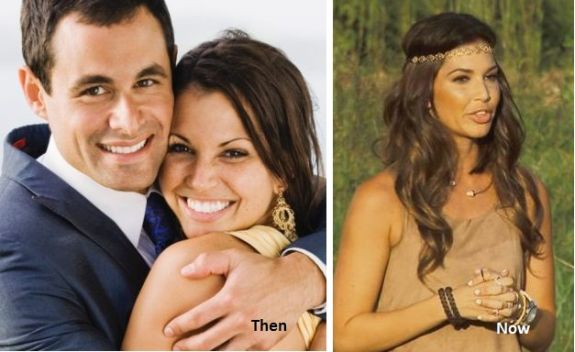 THEN: In one of the most shocking 'Bachelor' moments ever, Jason Mesnick chose Melissa Rycroft over Molly Malaney, only to change his mind a little while later and dump Melissa for Molly on national television during his season's "After the Final Rose" special. (Jason and Molly ended up getting married a year or so later. Melissa did not attend.)
TODAY: Melissa did not shrink away after being publicly humiliated. Instead, she appeared on the next season of 'Dancing With the Stars.' (Her appearance on the show was no doubt ABC's way of trying to make peace with her after the 'Bachelor' fiasco.) She later went  on to join the cast of the 'Dancing With the Stars: All-Stars" season, and ended up winning the entire thing! She also acted as co-host of the first season of 'Bachelor Pad' with Chris Harrison.
In June of 2009, Melissa became engaged to her longtime friend Tye Strickland and in December of that year, they got married in Mexico. Melissa gave birth to their daughter Ava in February of 2011. In 2014 she gave birth to her son, Beckett. As of March 2016, Melissa is currently pregnant with her third child.
Melissa currently co-hosts the CMT reality show 'Redneck Island.'
(Photos: ABC/CMT)
(Season 14: Jake) Vienna Girardi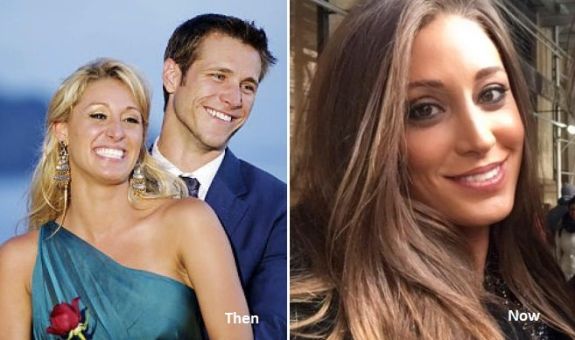 THEN: Despite the fact that all of America wanted Jake Pavelka to choose Girl Next Door Tenley Molzahn at the end of Season 14 in 2010, he followed his heart groin and chose vampy Vienna to be his wife. He proposed and the couple appeared in a slew of magazines to gain more publicity. Vienna was front-and-center cheering on Jake while he competed on 'Dancing With the Stars.' However, things went south fast and the couple broke up in June of 2010. They later met face-to-face (on camera, of course) for a very special televised screaming match in July of that year.
Vienna and Jake both appeared on the last season of 'Bachelor Pad.' They appear to have somewhat made amends and don't despise each other anymore (at least for now). Vienna dated 'Bachelorette' star Kasey Kahl for nearly a year but they split in November.
TODAY: These days, Vienna is once again single and living in Florida (and enjoying her new nose). She opened a clothing store called Vixen Boutique in January 2012 but it closed after only a year in business. She now works a recruiter in the architectural and engineering fields, and stays out of the 'Bachelor' spotlight.
(Photos: ABC/Facebook)
(Season 15: Brad) Emily Maynard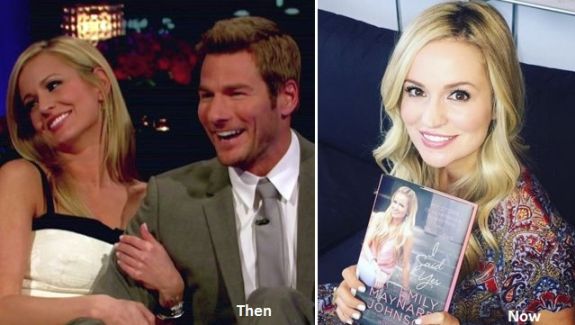 THEN: Americans (and Brad Womack) were smitten with Southern belle Emily as soon as they met her. Brad fell hard for Emily, proposing to her at the end of Season 15 in the spring of 2011. By the time the "After the Final Rose" special filmed, the couple had already broken up several times. In July 2011 they called it quits for good, and Emily sat down with Chris Harrison for a special interview to discuss what went wrong with the relationship. She went on to star on 'The Bachelorette' and chose Jef Holm. They became engaged but their relationship only lasted a few months.
TODAY: Emily is still living in North Carolina with her daughter, Ricki. In June 2014, she married Tyler Johnson, a guy she started dating after her engagement to Jef ended.
In July 2015, Emily and Tyler welcomed a son, Jennings. Eight months later, Emily announced that she was pregnant again. She is due to give birth to her third child in September 2016.
She is currently working on opening a children's store in Charlotte, North Carolina, and in 2016 released her first book, I Said Yes, which talks about time on 'The Bachelor' and 'The Bachelorette.'
(Photos: ABC/Twitter)
(Season 16: Ben) Courtney Robertson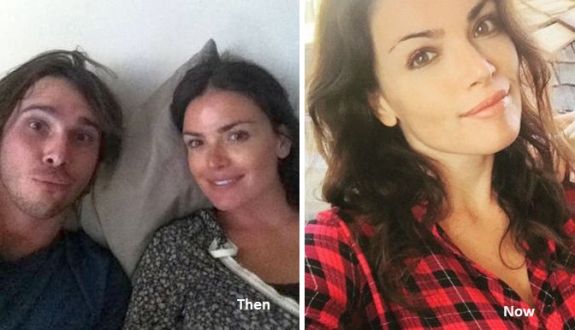 THEN: Courtney certainly didn't make any lifelong pals during her time on Ben Flajnik's season of 'The Bachelor.' Courtney played the villain all season long: stealing Ben away from the other girls, going topless on a group date and skin-dipping with Ben in Puerto Rico. Ben shocked all of America when he chose Courtney over sweet Lindzi Cox on the season finale.
NOW: After a year-long relationship, Courtney and Ben split for good in October 2012. At the time, they told In Touch magazine that they would remain friends, but their break-up quickly turned nasty, with both Courtney and Ben running to various tabloid magazines to trash their ex. A month after her break-up with Ben, Courtney was dating Emily Maynard's ex, Arie Luyendyk Jr., but their relationship fizzled after a few months.
Courtney wrote a book about her experience on 'The Bachelor' called I Didn't Come Here to Make Friends: Confessions of a Reality TV Villain. Released in June 2014, the book went on to make the New York Times Best Seller List.
Courtney currently lives in Los Angeles, where she has started a career in real estate.
(Photos: Instagram)
(Season 17: Sean) Catherine Giudici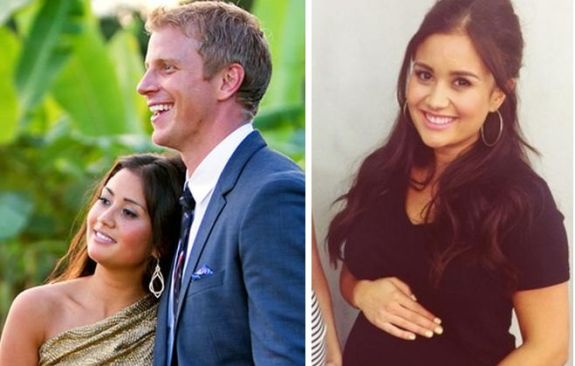 THEN: Catherine charmed Sean (and America!) with her goofy, fun sense of humor during Season 17 in 2013. Sean chose Catherine over Lindsay Yenter and proposed to her in Thailand. After she gleefully accepted his proposal, they rode off into the sunset on an elephant. (As you do.)
NOW: Catherine married Sean in January 2014 in a live televised event. The couple famously waited until their wedding night to engage in any hanky-panky.
After getting married, Catherine and Sean hit the reality TV circuit. Sean appeared on 'Dancing with the Stars,' and Catherine and Sean did stints on 'Marriage Boot Camp: Reality Stars' and 'Celebrity Wife Swap' in 2015. In December 2015, they announced that they are expecting their first child.
(Photos: ABC/Instagram)
(Season 18: Juan Pablo) Nikki Ferrell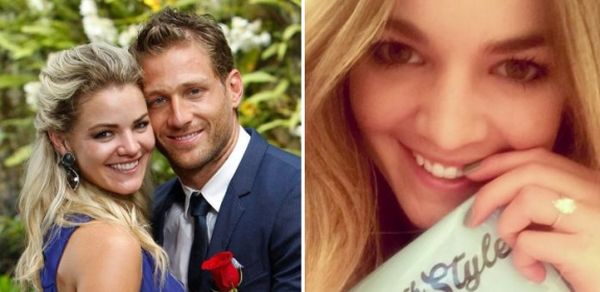 THEN: Nikki ended up being the girl Juan Pablo chose to give his final rose to at the end of Season 18 in 2014. Despite the fact that he didn't tell her he loved her (or propose), Nikki insisted she was very happy dating Juan Pablo.
After attempting to work out their problems on VH1's 'Couples Therapy,' Nikki and Juan Pablo split for good in October 2014.
NOW: Nikki is still working as a pediatric nurse in Kansas City. In January 2016, she announced that she was engaged to her boyfriend, Tyler Van Loo (who, coincidentally, bares a striking resemblance to Juan Pablo!)
On the night that Ben Higgins' 'Bachelor' finale aired in March 2016, Nikki reflected on her own experience on 'The Bachelor.' In an Instagram comment, she compared her life then to her life now.
"I can't believe this was two years ago," Nikki wrote. "Comparing my life then to my life now is unreal. I've learned so much and grown so much as a person, and I honestly couldn't be happier. Although it's taken me a while to realize it, I wouldn't be the person I am today without that experience."
(Photos: ABC/Instagram)
(Season 19: Chris) Whitney Bischoff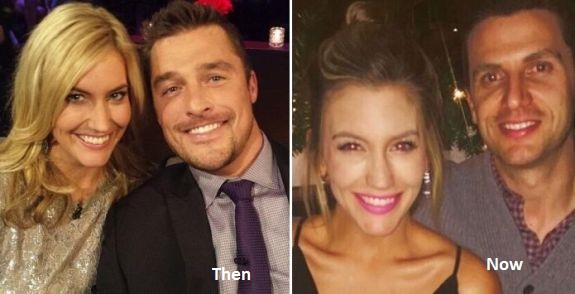 THEN: Whitney fell hard for farmer Chris Soules during his season in 2015. After accepting a proposal from Chris during the Season 19 finale, Whitney was seen supporting her man while he appeared on 'Dancing with the Stars.' However their relationship was short-lived; the couple ended their engagement in May 2015, after about six months together.
NOW: Whitney is still living in the Chicago area and working as a fertility nurse. Since splitting with Chris, she has remained active in the "Bachelor Nation." In February and March 2016, Whitney appeared alongside six other former 'Bachelor' franchise contestants in "Will You Accept This Rose," an improvised parody of 'The Bachelor.'
In January 2016, Whitney called into an episode of "Bachelor Live" and confirmed that she is now dating a man named Ricky.
"I am very, very lucky," she said. "I've met a great man and I'm the happiest I've ever been.
(Photos: ABC/Instagram)
(Season 20: Ben Higgins) Lauren Bushnell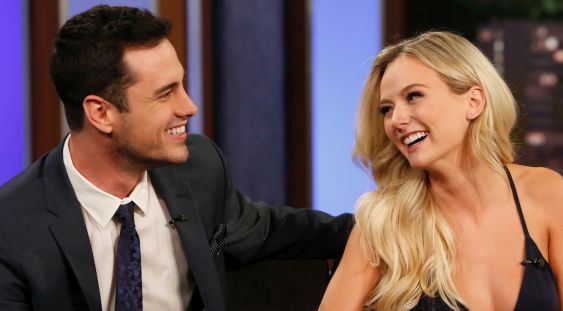 As of March 2016, Lauren is engaged to Ben. She plans to move to Denver to be with him by the end of the month.
(Photo: ABC)
(Photos: ABC, Twitter)