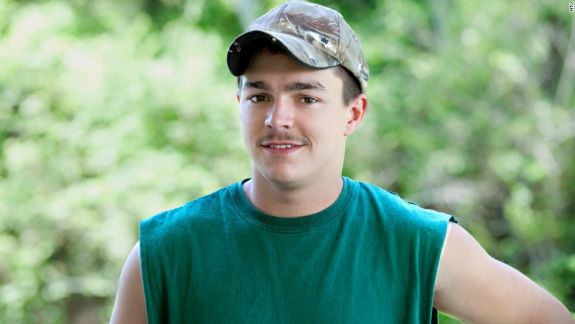 The day-and-a-half-long search for Buckwild star Shain Gandee and his uncle, David, has ended in tragedy. The MTV star's car was discovered early this morning, with Shain and two others dead inside. He was only 21 years old.
According to a press release released by the Kanawha County Sheriff's Office in West Virginia, Shain and his uncle were reported missing after they hadn't been seen for 24 hours. They were last spotted at a Sissonville bar, where they had been telling friends that they planned to go four-wheeling. They had not been seen since.
MTV has issued a statement in regard to the news of Shain's death:
"We are shocked and saddened by the terrible news about Shain Gandee, and those involved in this tragic incident. We are waiting for more information but at this time, our main concern is for the Gandee family and their friends. Our thoughts and prayers are with them. Shain had a magnetic personality, with a passion for life that touched everyone he met and we will miss him dearly."
No cause of death has been released as of yet.
Although none of the other 'Buckwild' cast members have commented on the news of Shain's death on their social media accounts, it seems that some of them were aware that Shain had "taken off" but didn't appear to be all that worried.
"It sure is hard to find someone when they take off if they don't believe in cell phones. #ImGoingToPlantAGPSInShain" cast member Cara Parrish tweeted yesterday. (This was obviously before he was found dead.)
Although MTV had confirmed that it would film a second season of the hit show, with the news of Shain's death (not to mention the fact that 'Buckwild' Salwa Amin is facing significant jail time after her recent arrest), it seems unlikely that the show will continue.
UPDATE: According to a West Virginia news station, MTV was in the Sissonville area, filming season 2 of 'Buckwild' when this incident occurred. They assisted with the search for Shain, even supplying searchers with a four-wheel-drive vehicle to use. (Apparently, the area that Shain's truck was found was so remote and muddy that investigators had to use ATV to reach it.)
The other bodies found with Shain were identified as Shain's uncle David and a friend, Robert Myers. There were no signs of foul play at the scene, which makes the deaths even more mysterious.
(Photo: MTV)