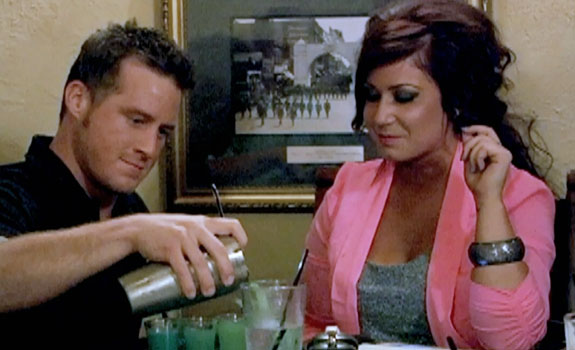 It's been a crazy week in Teen Mom Land. (Um, thanks for that, Farrah! Every time you eff up your life, The Ashley gets to sleep less and work more!) There are only a few episodes left before this crazy train wrecks, so we have to indulge in all the Barbara goodness while we can.
Anyway, this week's episode kicks off in West Virginia, where Leah and Jeremy are about to say "I do"—again. Seriously, this chick has more weddings than Elizabeth Taylor. Everyone has gathered for the festivities, even Leah's absentee father, Gary, who has crawled out of the woodwork to come to Leah's wedding. He's hanging around Leah's house, lookin' like he popped out of a Sugar Ray video, circa 1998, with his orange-tint Blackfly sunglasses, ball chain necklace and backwards flamed ball cap. (Seriously, did Guy Fieri have a garage sale or something?)
"My baby gurl, gots two baby girls!" he exclaims. (I guess he couldn't be bothered to come see Leah when she was growing up…or pregnant at 16…or giving birth…or marrying Corey…I mean, the Steak 'n' Shake only gives you so many days off, so I'm sure that's why he couldn't make those events.)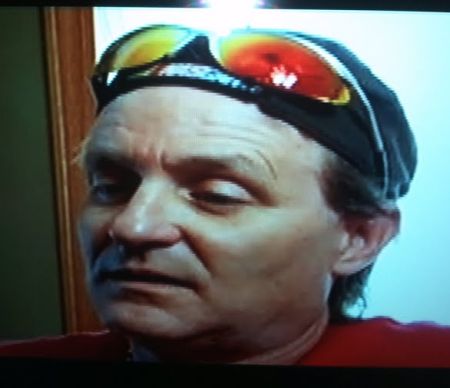 Anyway, he admits that it's "been awhile" since he's come around and Leah reminds him that the last time they saw each other was back when she was 13, not pregnant and not getting an MTV paycheck on the regular. She says that she's happy she met Jeremy because he wants to give her and her girls what she never had, which was a stable male figure in her life. Gary seems completely oblivious to the fact that Leah is basically calling him an asshat for not being around when she needed him.
Next we check in with Chelsea, who, as per usual is shucking her responsibilities and is taking a "one month" (and by one month I mean "never going back"…it's been like seven months since this episode was filmed and we have yet to see a graduation photo from Chelsea. You know if she had actually completed school, she'd be Instagramming the sh*t out of her graduation!)
And because no episode of 'Teen Mom 2' would be complete without an appearance by a U-Haul, Chelsea is once again relocating. (For those of you keeping track at home, I believe that make five new houses for Chelsea in the last two seasons, no?)
After getting settled into her new pad, Chelsea (who's still trying to make that god-awful Paula-Abdul-esque rhinestone ball cap work), goes to see South Dee-ko-tah Mary to see what she's getting her for her birthday.
"Oh my goodness, you're going to drink al-cee-hol!" Mary coos in her signature Midwest dialect. Mary tells Chelsea that she's proud of how she's matured in the last year, and Chelsea chalks it up to her being single for almost a year. (Um, except for that period where you put Adam's ding-dong in your ho-ho, Chels!)
Over in North Carolina, Jenelle is stressed out because she's lost yet another roommate, and she's no longer making as much money on her "online job," (which, in case you don't know, is "Sulia-ing" the crap out of herself and all her 'Teen Mom' co-stars.) Anyway, she heads to Casa de Babs to update Babs on her latest troubles. Babs is less-than-thrilled that Jenelle has decided to make Kieffer her new roommate. Babs' eyes literally bug out of her head when the word "Kieffa" is mentioned, but Jenelle assures her that he will be paying half the rent. Babs, never one to be played a fool, tells her daughter, "I don't trust him!"
She then tells her "motha" that not only is she going to be shackin' up with the Kief-sta, but that she's also dropped out of school again because she's so stressed out. (Yes, that "online job" must be incredibly trying…)
"Well what's goin' on wif the chaaarge wif Gary?" Babs cackles, and then immediately starts talking about Jace's upcoming birthday paaaaarty. (Seriously Babs must be in a hurry to get all the MTV-required dialogue done with so she can start hitting her box of wine!) Plus, Jenelle is obviously high as a kite so she's probably not that great of a conversationalist.
Babs tells Jenelle that she's got the kiddie gym all booked for Jace's party the next day, and Jenelle's pissed that Babs didn't give her enough time to invite a lot more people. (I mean, I'm sure her drug dealer has at least eight illegitimate children he could have brought, and I'm sure her friend Amber probably has popped out at least six kids by now that could have attended!)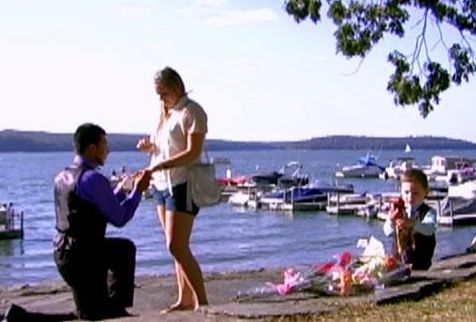 Finally we go to Kail's. She's heading to her hometown to meet up with Javi and Isaac. Kail thinks they're just meeting for lunch but Javi's got a little more than that planned. He and Isaac are all dressed up and Javi is ready to propose to Kail by the lake!
She pulls up to the lakefront restaurant and the hostess gives her a note from Javi telling her to meet them at the lake. She comes out and sees them standing there with flowers for her. Javi then drops to his knee and asks her to marry her. Kail is thrilled and tells him yes.
Speaking of weddings, there are only a few days left until Leah and Jeremy are going to get hitched. The entire Messer clan is starting to arrive for the festivities. Leah's mom, Dawn, arrives to take Leah and the twins down to Myrtle Beach for the wedding. However, there's rain in the forecast, which has Leah a bit worried, but still they head out for the eight hour drive through the sticks to get to South Carolina.
Meanwhile, Chelsea's also busy…getting her fake nails on. Her birthday is the next day, and she says she feels older than she is because she has a kid and can't go party. Her friend asks her if she's going to start stripping now (um?!) and then wants to know what's up with Adam and his latest girlfriend.
Over at Jenelle's house of horrors, it's time to start getting ready for Jace's birthday party. Kieffer manages to put the bong and bag of Doritos down long enough to get dressed and ready to go. They head over to the kiddie gym and meet up with Jace, Babs and Babs' main squeeze, Mike. For some reason, Barb has bought a cake that's the size of Texas, despite the fact that there's only like four people at the "paaarty." (Of course, Kieffer is one of the guests, and I'm sure his case of the munchies could probably tackle that cake in one sitting.)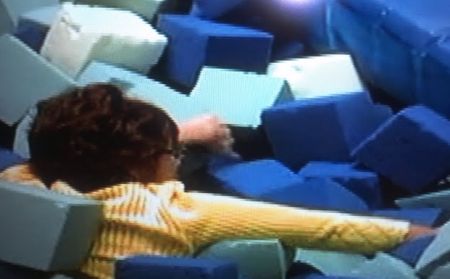 Next comes possibly the best 'Teen Mom 2' scene…EVER! Babs decides to kick up her heels and take a dive into the foam pit. She's jumping on the trampolines and swimming through the foam pits like she hasn't a care in the world. Meanwhile, Kieffer is not in the picture, so we can only assume that he's pawing through the dumpsters out back, looking for free food and/or discarded drug paraphernalia.
Afterwards, they steal some random kid and make him pretend that he's friends with Jace. (I'm sure MTV had to pay his mom a pretty penny to borrow him, especially since he had to hang out with that ragtag group of nutbags!)
Next it's time for Babs, the borrowed kid, Mike, Kieffer, Jace and Jenelle to go to the party room to open presents. Jenelle has hiked up her shirt for the occasion. (I mean, don't you do that at a child's birthday party? Good Lord, she'll probably be the mom at Jace's high school graduation that will come dressed in butt shorts and a bra top. Hahah, I'm just kidding—like she'd actually show up to Jace's graduation!)
Later, Jenelle sits down with Babs and reveals that she has yet to pay her rent for the month, even though the month is almost over. She informs her mom that her bank account is "negative $600" and she still hasn't paid her electric and water bills. (She has managed to shell out the dough for her cell phone and internet bills. I mean, how else would she access Twitter and broadcast her trainwreck life to the world?)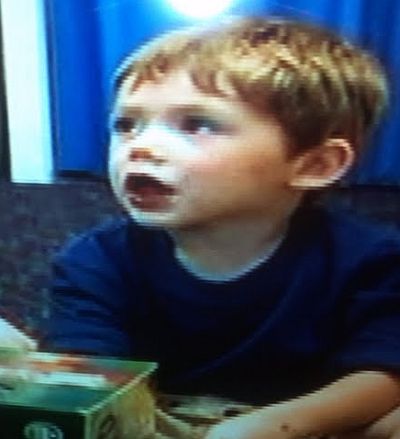 "I was running out of money because I was spending too much money on marijuana," Jenelle says. (It's nice to know those MTV paychecks were being put to good use!) Jenelle says she's staying clean for now, because, you know, she can't afford "the weed." She then looks at Babs like she's expecting to be congratulated for a job well done. Yes, kids, we have just entered the Twilight Zone.
In South Carolina, it's time for Leah's wedding. She and Jeremy marvel at how the trip to Myrtle Beach is not only their wedding, but also their first vacation together. Wait, wait, wait…hold up a second…so these people have literally gotten engaged—twice—gotten pregnant, had a miscarriage, and bought a house together, but are just now feeling ready to go on a trip together?! W.T.F.
Leah tells us that this is definitely her last wedding. Just then it starts to rain and thunder. Isn't it ironic…don't ya think?
Meanwhile, Kail and Javi are celebrating their engagement at the lake house restaurant. Kail tells him that she used to eat at that restaurant with her mom when she was little. (And by that, I'm sure poor Kail means that she used to chow down on chicken nuggets while Suzi was passed out underneath the table after chugging back a pint of cheap vodka in the restaurant parking lot. Aww…memories.)
They discuss how they're going to get married at the courthouse in a few days and then have their big wedding later. Kail said she doesn't want people to think that they got married at the courthouse and didn't do it "the right way" so they are planning to keep their courthouse wedding a secret.
A few days later, Kail and Javi head over to the courthouse to get their marriage license. Later, she meets up with her friend Gigi to explain the marriage plan. Kail is scared to tell Jo that she's getting married and will be moving away in about a year.
In South Dakota, it's Chelsea's 21st birthday, and she's feeling bad for leaving Aubree at her mom's while she goes out to dinner with her friends. She says she might "get a drink or something." Later, Chelsea's crew arrives. They all pile into the bathroom to tease their hair up like Dolly Parton and her backup band and then head out to paint the town red!
They head over to a restaurant and pray to God before they get all blitzed on shots. Later, Chelsea says she ran into Adam and his friends at a bar, and now he's starting texting and yelling at her for making out with people at the bar.
Um…I guess MTV "forgot" to mention Chelsea's VIP weekend in Vegas, which was her real 21st birthday celebration. (I'll save you the Googling…you can see the photos here.)
Over in North Carolina, Babs has arrived at Jenelle's house to talk about Jenelle's dire money situation. Jenelle is thrilled to announce that she and Kieffer have come up with a "get rich quick" plan to solve all their money problems! Kieffer is now selling special 'tobacco' pipes on the Internet.
"What kinda pipes?" Babs cackles. Jenelle insists that they are for smoking tobacco only. He proudly brings out a makeup bag (which I'm sure he stole from Walgreens) full of carved wooden pipes. Barb is insistent that Jenelle get her finances in line if she ever wants to get custody of Jace back. She says that she also needs to start seeing Jace more than once every three weeks, (so, basically the only time she sees him is when the MTV film crew arrives and makes her go film with him.)
Jenelle insists that she can't come see Jace because she doesn't have money for gas. (Yet she has money to buy an insane amount of Victoria's Secret sweatpants?!)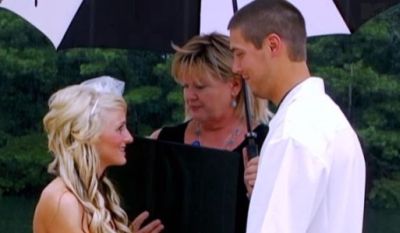 Meanwhile, Leah is meeting up with her bridesmaids at the salon to get her hair and makeup "did." The bridesmaids have their hair all curled up like Shirley Temple, while Leah gets her veiled placed and ready to go. The gang heads out in white stretch limos to make their way to the ceremony. The limo they got looks like something out of one of those gypsy shows..seriously…nothing is classier than a red strobe light flashing over your head on your wedding day.
Unfortunately, the rain didn't hold off until after the ceremony. The gang is all forced to hold umbrellas over themselves. Of course, that doesn't stop them from getting all dressed up in funny sunglasses, like they're in one of those photo booths, and dancing down the aisle. (Seriously, this really happened.) Finally, Leah emerges from the limo, with deadbeat dadd-o (sporting his best Kid Rock cowboy hat) on one arm and her stepdad Lee on the other. They exchange vows under the umbrella as the rain continues to pour down on top of them. They throw some sand into a jar and call it a day!
Next week on 'Teen Mom 2,' Kail tells Jo about her marriage plan, Ali tells Corey that she walked and Jenelle tells Babs to eff off.
Shameless promotion alert! If you really love TEEN MOM 2, you should probably scurry on over and buy The Ashley's book: "Teen Mom Confidential!" Learn all about the girls' childhoods, and read interviews with a ton of the shows' cast members!
(Photos: MTV)