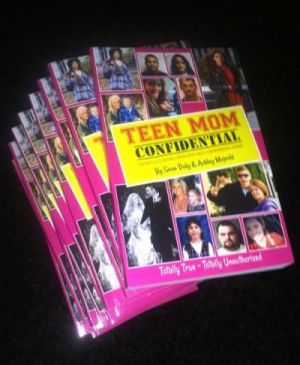 The Ashley is so excited to hear from her readers that have purchased the book she co-wrote, Teen Mom Confidential: Secrets & Scandals from MTV's Most Controversial Shows. She has been receiving so many encouraging Facebook messages, emails, Amazon reviews and tweets from people who have enjoyed the book. It makes her feel all special inside, plus it gives her something that she can go show her mother to prove that she doesn't just sit home all day and watch crappy TV…oh, wait…
Anyway, The Ashley's been getting asked a lot of questions regarding her book, so she figured it might be a good idea to put the answers all in one place. If you have a question that's not answered below, please leave it in the comments below!
Anyway, to everyone who has plugged the book on their Facebooks, Twitters, etc…thank you so much. Also, I'd like to apologize to my readers that are not 'Teen Mom' fans for my preoccupation with the show lately and also for my shameless promotion of the book. Hang in there with me, I promise I will get back to mocking other shows very shortly!
While The Ashley has gotten so many lovely and encouraging comments regarding the book, there have been, of course, several nay-sayers that 1) need to be hit with a frying pan and 2) ask really rude/strange questions, so The Ashley will try to answer those as well.
On with the show…
Q: Is Teen Mom Confidential available for Kindle, Nook, iTunes, etc….
A: The book is currently available in paperback form and in a Kindle version. We are working on the other versions, but currently those are the one two ways to read it. The Ashley's not very high-tech (she still can't figure out how to use her Netflix account!) but luckily, her reader Livvy informed her of another option. If you want to read the book on a fancy apparatus, but don't have a Kindle, you can download the Kindle app for free in iTunes and then read it on your iPad.
Q: Where can I buy this book?
A: The easiest way to get the book is on Amazon in both print and Kindle forms. We hope to someday get it into some book stores (if your dad owns Barnes & Noble, help a sista out!) but at this time it's only for sale in InternetLand.
Q: How accurate is the information in this book? Did you just make a whole bunch of crap up?
A: Um, no…I was planning on saving that winning formula for my next book. We interviewed the girls from the show, their family, their friends, people that worked on the show, so it's basically about as accurate as you can get. We went straight to the horses' mouths for this information.
Q: I ordered a book and still haven't gotten it. Where is it?
A: If you ordered through the special pre-order period, all of those orders have shipped. You should have received it by now, and if you haven't please email sales@teenmomconfidential.com. (All international orders have also shipped, but don't forget that they do take a bit longer!) If you ordered through Amazon, they will be able to help you out with tracking your order.
Q: What kind of book is this? I don't want to read some tabloid garbage book that is mean to the girls.
A: Our goal when writing this book was certainly not to piss off the girls, or embarrass them. The book, though it has many juicy stories, is a complete history of the show. Of course, some people aren't going to be happy with everything we wrote in this book, but rest assured it's not a sleazy tell-all.
Q: Can I have a free book?
A: Um…no. But The Ashley is planning to give a few copies away on her Facebook page, and a 'Teen Mom' Facebook fanpage, so stay tuned!
Q: Why would you write a book about 'Teen Mom?' Don't you have a life?
A: No, obviously. I thought we established that a long time ago?