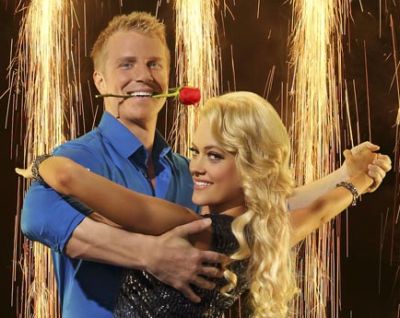 Rumors have been running rampant all over Internet Land for months that Bachelor star Sean Lowe has been doing the horizontal mambo with his Dancing with the Stars co-star, Peta Murgatroyd, despite being engaged to his made-for-TV love, Catherine Giudici. Several media outlets have reported that Sean and Peta are getting a little too close for Catherine's liking, and she's been drowning her sorrows at Los Angeles bars to pass the long hours while her beloved is rehearsing with the hot dancer.
Naturally, Sean and Peta have both denied that they are anything more than friends, and Peta even spoke with People magazine about all of the rumors.
"[Sean and I are] just good friends like brother and sister," she told the magazine. "[The rumors are] something that [have] gotten a little out of hand with Sean and Catherine because they had just gotten engaged and it's just so crazy to think that people are making up all these stories…there is nothing going on."
Peta also took the opportunity to dispel the rumor that Sean has turned into a diva that's obsessed with fame.
"He's a lovely, lovely guy – down to earth and not a diva like all the tabloids have perceived him to be," Peta said. "What you see on TV with Sean is what you get in real life."
The Ashley can testify that Sean was ridiculously down to earth and sweet when she met him back in January at the Bachelor Mansion. Hopefully all of this hoopla and media attention hasn't changed him!
(Photo: ABC)