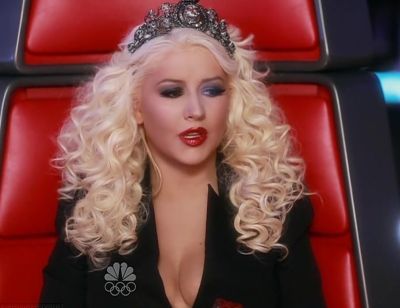 Deadline.com is reporting that Christina Aguilera will take her judging chair back for the next season of The Voice. According to the website's sources, Christina will oust Shakira from the chair she abandoned last season when she left the show to focus on her own musical career.
CeeLo Green, who also took a sabbatical from judging this season and was replaced by Usher, is also in talks to reclaim his chair. While it's being reporting that CeeLo is close to signing on for Season 5, he seems more unlikely than Christina to rejoin the show, being that his new reality show just got picked up by TBS.
The Ashley is very disappointed to hear this. While she did get quite a hoot-n-holler out of making fun of Christina's horrendous hairdos and swapmeet-slutty outfits week after week, The Ashley thinks that the show is so much better with Usher and Shakira than it ever was with Christina and CeeLo. While both provided funny moments (although most of Christina's were unintentional), Usher and Shakira actually act like coaches, giving their contestants valuable advice. In The Ashley's opinion, 'The Voice' has never been better than it is this season, due to the chemistry of the four current judges.
Of course, NBC has not commented on these rumors, but it looks like this is legit. According to Access Hollywood, Christina is reportedly scoring a $12 million payday for returning to the show. Maybe she'll actually use some of it to buy a decent wig this season.