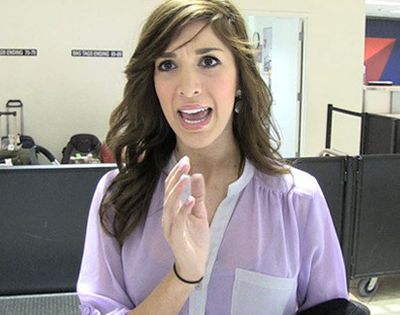 Apparently there was a third "star" in Teen Mom Farrah Abraham's backdoor p0rno: Aunt Flo!
Yes, The Ashley realizes that she has sunk to new lows (even for her!) by writing this story but it was just too gross not to cover!
According to James Deen, Farrah's partner in her raunchy sex tape, "Farrah Superstar: Backdoor Teen Mom," (which, for the record, I still intend to recap for y'all!) Farrah was actually ON HER PERIOD when they shot the footage!
"She was on her period at the time that we shot the scene and she had a sponge inside of her," he told Radar Online. (They questioned him on whether or not she could have gotten pregnant from the scene, since she was "caught" on camera buying a pregnancy test last weekend.)
This may be a stupid question but…why the hell didn't Farrah just wait to shoot her "private video" until after she didn't require feminine hygiene products?! Was she seriously that desperate to make a video of her getting it up the rear that she had to film it while she was on her period?!
Wow. Just when you think a story can't go any lower…it hits another rung on the Icky Scale.
Other Farrah stories that can be filed under "Grosstastic": she is selling the infamous bikini that she wore on the cover of her p0rno flick (complete with fake tanner stains and probably fluid marks….um, ew.) Also, the lingerie she wore in the video was apparently RETURNED to the store after Farrah used it.
Nothing like a p0rno period story to make you vomit your lunch! You're welcome!
If you can't control your curiosity any longer and would like to buy Farrah's sexy-time tape, click the link below.
(Photo: TMZ)