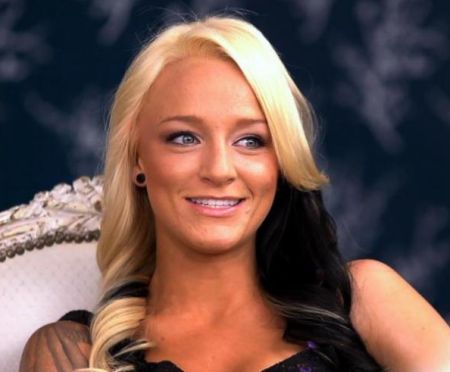 Over the years, Teen Mom star Maci Bookout has mentioned that she plans to release a book about her life and time on the show, but until now details about the book have been vague. This week, Maci appeared on DJ Malone's Blogtalk radio program and revealed all of the details of her upcoming book!
"I'm writing a book that will be out at the end of this year and I'm really excited about that because I've always been a writer," Maci told DJ Malone. "I've worked really, really hard on this book for like three or four years now and I cannot wait for it to come out because it's going to be amazing."
Maci went on to describe what we can expect to read in her autobiography. Apparently the book will include behind-the-scenes glimpses of her time on MTV.
"The book is a memoir on my life, basically from the time I was 15, before I even met Ryan, my baby's dad, and it goes on into the years of Bentley being three and four," Maci said. "It's kind of like everything that everyone saw from the time I was on '16 and Pregnant' until 'Teen Mom' ended. It's all of my experiences and everything that I went through from my mind and my point of view, rather than what people may have taken away from seeing it through a camera or seeing it through a TV show."
Maci said that the book, which will also include her journal entries and poetry from that period of her life, will show 'Teen Mom' fans a whole other side of her.
"On the show, I'm very well put together and I'm not a very emotional person and I don't really talk about my feelings much, and in this book I feel like everyone is going to be able to see, not the weaker side of me, but just me like very raw, what I was thinking the whole time," she said. "I'm really nervous, because I don't usually share my inner-most feelings and I never let people read my poetry or my writing and this is going to be the first time that everyone does. I'm really putting it all out there and I'm really exciting to see what people think of it."
The book, which Maci has always said will be called "Bulletproof," has not been given an official release date as of yet. If you can't wait until Maci's book comes out, you should probably orderThe Ashley's new book, Teen Mom Confidential: Secrets & Scandals From MTV's Most Controversial Shows, which has a lot of behind-the-scenes info about 'Teen Mom' and '16 and Pregnant' which is on sale now! [End shameless self-promotion here!]