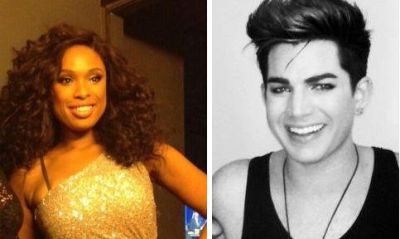 The Ashley is praying to the reality TV gods that this news is true! She loves her some Adam Lambert!
Anyway, E! Online is reporting that former American Idol star Jennifer Hudson has signed on to judge the next season of the aging singing show. E! is saying that producers have decided to do a "Superstar Alum" judging panel for 2014 in hopes that bringing back some familiar faces will stop the ratings from hemorrhaging like they did this season.
The best part? The other superstar alums they have in mind include Season 1 winner Kelly Clarkson, and either Season 2 runner-up Clay Aiken or….wait for it….Season 9 runner-up (and all-around amazing man) Adam Lambert!!!!
I need a moment.
Adam is the perfect choice for judge. A while back, it was rumored that he was in consideration to be a judge, but that turned out to be untrue. This, however, appears to be very legit. Not only does he have one of the best voices to ever grace the 'Idol' stage, but he's snarky, likable and has the dynamic personality needed to be a success on the judges panel.
In The Ashley's opinion, bringing back former contestants to judge instead of over-the-top conceited music "superstars" is a very smart move. To be honest, it may be the only thing that can help get 'Idol's viewers back!  However, The Ashley wishes that they hadn't selected Jennifer Hudson to be a judge. Although she's super-talented, she's not exactly the friendliest gal in town…
What are your thoughts on this?
(Photos: Twitter)