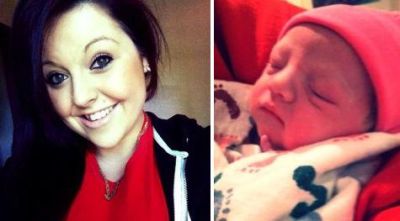 It's a girl for 16 and Pregnant Season 3 star Danielle Cunningham!
The 19-year-old went into labor late last night and gave birth to her daughter, whom she named Jayleigh Rae, early this morning. Jayleigh weighed in at 6 lbs, 1 ounce!
Danielle, who is also mother to 2 1/2-year-old Jamie Jr., got pregnant last fall by Jamie Alderman, who also fathered her first child. Jamie and Danielle are no longer together, and Jamie is seeing another girl.
Unfortunately, Danielle's mom, Casey Cunningham, who we met on Danielle's '16 and Pregnant' episode, missed the birth because she was away on vacation in Alabama and was unable to get a flight in time.
Also missing from the birthing room? The baby's father, Jamie!
Danielle is just one of the many girls from '16 and Pregnant' that have ended up getting pregnant in the few years since their episodes aired. The first to get sperminated again was Jordan Ward of Season 3, who was pregnant with her second child when she went to Los Angeles to film the Season 3 reunion special in 2011. She gave birth in November 2011. In the last two years, at least 10 (11 if you believe that Jenelle Evans was actually pregnant this past January) girls have gotten pregnant again. Jordan, Ebony Rendon, Brooke Smitherman, Kristina Robinson and Leah Messer all gave birth, Jamie McKay and Markai Durham had abortions, and Kail Lowry and Nikkole Paulun are currently pregnant.
If you're curious to read about these second pregnancies in-depth, be sure to pick up a copy of The Ashley's book, Teen Mom Confidential: Secrets and Scandals From MTV's Most Controversial Shows! The book goes into great detail (through interviews with the girls themselves) on what producers said when they found out Jordan was pregnant again, how Danielle's mom handled her second pregnancy, why Jamie McKay had to get an abortion, etc. Order the book here!
Congrats to Danielle!
UPDATE: To see an updated article about Danielle and Jamie, click here.