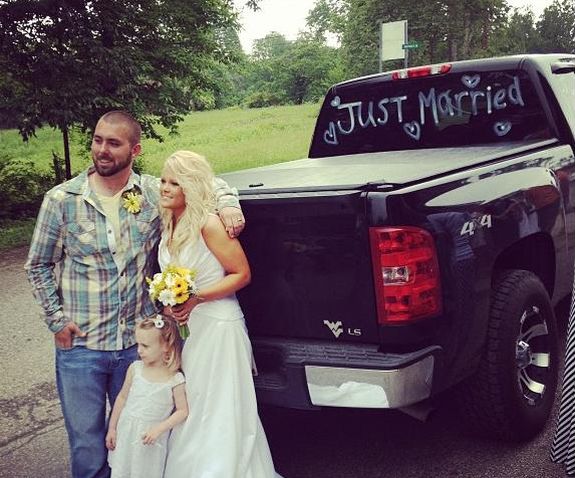 The bride wore white and the groom wore…plaid!?
Corey Simms proved he's straight country today when he wore a plaid shirt during his wedding ceremony! Corey (who you may remember insisted on trimming his tux in camouflage when he wed his first wife, Leah Messer) said "I do" to his fiance of nearly six months, Miranda Patterson, today in Clendenin, West Virginia!
From the looks of the photos, posted by wedding attendees, the wedding ceremony looked beautiful. It appears that Corey and Miranda were married by a preacher, and Corey's daughters, Ali and Aleeah, served as flower girls.
Before walking down the aisle, Miranda tweeted a sweet note to her husband-to-be:
Today in just a few hours, @coreysimms2 and I will be joined in marriage. Happiest and most blessed day of my life. I love you handsome 🙂

— Miranda Patterson (@mirandabridget) June 7, 2013
By all accounts Miranda, who has lived with Corey since September 2012, is being welcomed into the Simms family with open arms. Corey's mother, Donna, posted a touching note to her new daughter-in-law on her Facebook page:
"Right from the start,The special way you loved my son;The kindness in you heart; Thank you for the happiness you have brought to his life I know he is very proud to have you as his wife…"
Corey's father, Jeff, and even his ex-wife Leah, have all sung Miranda's praises.
Congrats to Corey and Miranda! Click the photos below to enlarge!