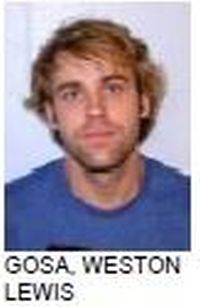 Another day, another 16 and Pregnant star behind bars!
Season 1 star Weston Gosa was arrested—AGAIN!—in Rome, Georgia yesterday. Weston, who's baby-daddy to Whitney Purvis, was picked up by the cops after it was discovered that he had a warrant out for his arrest.
Weston has been picked up by the cops at least three times since his MTV reality show days, and is known for delivering quality mugshots each time. (Actually, The Ashley is somewhat disappointed in this week's offering, he almost looks jolly, making me yearn for the days of half-closed Weston eyes …sigh!)
Anyway, Weston and Whitney, parents to Weston Jr., are no longer together, after splitting about a month or so ago. They had been on-and-off in the years since '16 and Pregnant', but had been living together and had even gotten arrested together back in December 2012! (You know what they say, the couple that posts bail together, stays together!)
It doesn't appear that ol' Wes is still behind bars, but will have to come back to court to face his charges.
According to The Ashley's sources, Weston, who is now 23 years old, is said to deeply regret his decision to appear on the first season of '16 and Pregnant,' and often says he wishes he had never done the reality show, due to the everlasting "fame" it has garnered him.
Whitney has yet to speak up on her baby-daddy's arrest! I'm sure she's very proud!