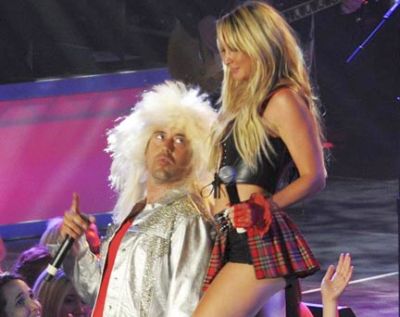 It looks like the reality gods are shining down on us, my fellow lovers of bad TV!
Mike Fleiss, the man behind The Bachelor and The Bachelorette, gave us hope that we haven't seen the last of Bachelor Pad! The producer recently let it slip to Entertainment Weekly that the show's cancellation may not be permanent!
"I thought it might be good to give it a break for a little while — let the fans starve for it a little bit so that next summer when it comes back…I have a good feeling it will be back next summer," he said.
Yes, kids, this means that we may have many more summer nights of sitting in front of our TVs watching some douchebag argue about how some other douchebag is more of a douche than him, all while banging some girl in the STD-filled hot tub! Yesssss!
There will be no 'Bachelor Pad' this summer, as The Ashley told you a few months back. Apparently, Mike Fleiss had a good reason for nixing the 2013 season of the show.
"I really wanted to give it a break because I did not feel like we had enough superstars to populate the pad," he told Entertainment Weekly.
By 'superstars' he means people that make it interesting to watch. For example, who didn't enjoy watching Ed Swiderski's drunken hi-jinks? Or Vienna Girardi and Kasey "Guard and Protect Your Heart" Kahl's epic fights/cry-fests? Hearing Fleiss say this lets the guys currently being featured on Desiree Hartsock's season of 'The Bachelorette' know that they'll need to step it up a bit in the trainwreck department if they hope to land a spot on 'The Pad' in 2014!