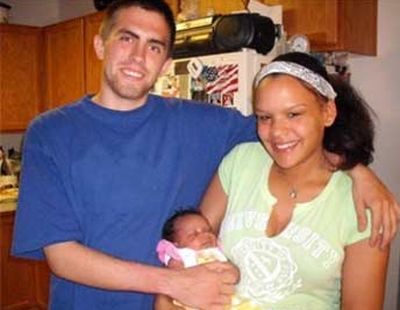 Another 16 and Pregnant marriage is on the rocks!
Ebony Jackson-Rendon, who was featured on the very first season of the show with her now-husband, Josh Rendon, recently announced that things aren't going so well in her relationship. The couple has been together for years and married for nearly four years, but lately things have taken a turn for the worst.
"Thinking this might be the end of our relationship, guess things are that bad and maybe things will change but my girls are #1 #newlife" Ebony posted.
"Having a hard time adjusting to life w/o someone who used to be my best friend, love never changes but perhaps people do…" she posted today, after confirming to a friend that she and Josh had, indeed, separated.
Things have been pretty rough for the Rendons since their MTV days. In May 2011, the couple was arrested after police raided their house and found drugs, along with "deplorable" conditions inside the house. Their daughter, Jocelyn, was removed from their care for about six months. (If you want to find out what really happened during that time period, you really should pick up a copy of my book, Teen Mom Confidential. We interviewed Ebony and she gave us a full account of what happened, what caused her mental breakdown and what happened afterwards. She has never spoken publicly about the incident otherwise! Order the book here!)
Anyway, the Rendons now have two children; Ebony gave birth to their second daughter in October 2012. The family is currently living in New Mexico.
The Ashley is hoping for the best for the couple. Ebony and Josh have made it through some hard times and will hopefully be able to pull through this rough patch.
"Whenever things get really hard, me and Josh get closer," Ebony told us during our interview. "A lot of couples would fall apart in the situations we have been through."