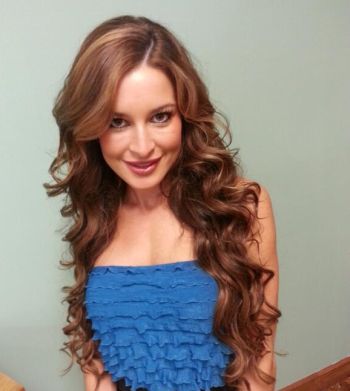 She's baaaaaack! Well, kind of.
The producers of Big Brother couldn't bring back love-to-hate contestant Rachel Reilly for a third season, so they got the next best thing for Season 15–her sister!
The cast of the next season of the show was recently announced, with Elissa Slater's name appearing on the list. While her name might not be familiar, her face certainly is.
The Rachel look-alike is married (hence the different last name, although her maiden name is Reilly) and it appears that she has the same cackle as the original Reilly, judging from this video. She also has the same long, red hair as her sis.
"I've always loved 'Big Brother' and I've always wanted the opportunity to do it," she recently told People.
Apparently, Elissa wanted to keep her relation to Rachel (who is now married to her 'Big Brother' love Brandon Villegas) a secret, but, of course Rachel vetoed that plan. (I mean, think of all the extra exposure she'd be turning down!)
"I was like, 'That is the dumbest plan because they are going to just think you are lying or trying to keep something from them,'" Rachel told the magazine. "I look so similar that I think it is just obvious. I think she will end up telling people."
Apparently the Season 15 'Big Brother' house will be decorated 1960s-style. As you Roundupers know, The Ashley is a big fan of anything vintage (especially home decor!) but she hasn't decided if she'll tune in or not. She's not sure she can take a whole season of Rachel 2.0.
(Photo: Twitter)