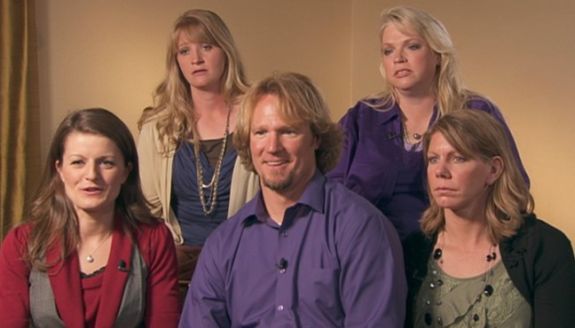 If you can't get enough of the polygamy hi-jinks of the Brown Family, you're in luck! TLC has finally announced a premiere date for the fourth season of Sister Wives! Kody (and his hair), Meri, Robyn, Christine and Janelle will be returning to our TV screens on Sunday, July 21!
A lot has happened since we last saw the Browns. They've moved into their four new houses, but one big question still remains: did Meri get her wetbar?! I have been holding my breath for months, and I just can't stand it anymore! And…was she forced to put a (gasp!) sliding glass door in her house instead of the French doors she wanted? Oh, the horrors!
According to a press release from TLC, we will finally get answers to some of the other questions we were left with at the end of Season 3. Meri will finally decide whether or not she's going to take Robyn up on her offer to surrogate a child for her and Kody. (Does anyone else ever feel like this whole show is basically about Kody, Meri and Robyn? Janelle and Christine always seem like background players to me. In fact, I think Janelle checked out of this whole mess about three years ago and is just there to collect a paycheck!)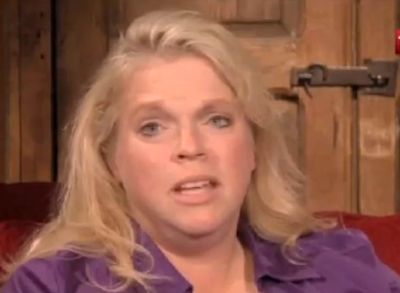 Anyway, the Browns are still trying to push their "Sister Wives Closet" business, but, according to TLC, things aren't going so well.
"Now they have four large mortgages and a struggling start-up jewelry business," the press release reads. "As more kids prepare to leave the nest, Kody and the wives have a surprise in store that will rebuild the closeness the family once shared back in Utah."
What else has happened to the Brown family since we last saw them? They've had some ups and downs, including the tragic loss of Kody's brother, Curtis, from a motorcycle accident recently. A few of the other children have graduated high school. Aspyn will be attending nearby UNLV in the fall (and living on campus like her brother, Logan). Meanwhile Mariah has been in Europe and Mykelti has been in Wyoming, according to their Twitter accounts.
None of the wives are pregnant as of right now (at least we don't think they are!) Who do you think will be the next one to get impregnated?
(Photo: ABC)