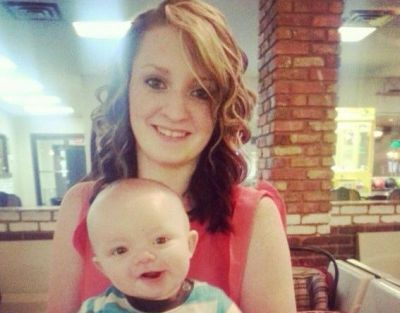 File this under: "We shouldn't care but we kind of do!"
It seems another marriage has fallen victim to the 16 and Pregnant curse! Kristina Robinson of Season 4 has split with her husband of less than two years, TJ Head.
Kristina, if you'll remember, had what was arguably the saddest '16 and Pregnant' episode ever. Her fiance, Todd Hight, tragically drowned just months before she gave birth to their child.
Things began to look up for Kristina after her episode aired, however. She met and married TJ and was soon pregnant with his child. In January, she gave birth to another boy, whom she named Tommy Joseph.
Unfortunately, Kristina and TJ recently split, which means she's currently a single mom to two very young tots. (Her baby with Todd is nearly two years old now!) Kristina has made the split "Facebook official" and has even started using her maiden name again.  To support her kids, Kristina has been looking for a job and recently had an interview for an office position, according to her Twitter.
There's still hope that Kristina and TJ will reconcile. It does not appear that they have actually filed for divorce yet.
They are certainly not the first couple with a link to '16 and Pregnant' to end up splitting.Other couples from the show that have split include Megan McConnell and her baby-daddy Nathan; Leah Messer and Corey Simms; Emily Mckenzie and Daniel Peterson; and Lizzie and Skylar Sickles. Most recently, Ebony and Josh Rendon of Season 1 announced that they were ending their marriage. Longtime '16 and Pregnant' couple Whitney Purvis and Weston Gosa also recently split up.
Kristina was not chosen for Teen Mom 3, although is has been reported that she was given the opportunity to participate in the series but turned it down. (To The Ashley' s knowledge, however, this is not true.)  We will get to see four of the Season 4 girls again very soon, as  Mackenzie Douthit, Katie Yeager, Briana DeJesus and Alex Sekella will star on 'Teen Mom 3' starting in August. (For more information, on that, click here.)
By the way, The Ashley did a complete update on every single girl ever to be featured on the show in her book, Teen Mom Confidential: Secrets and Scandals From MTV's Most Controversial Shows, so she suggests checking it out if you want to read all of them. It features tons of interviews with the girls from the show, lots of behind-the-scenes stuff and detailed "Where Are They Now?" info. (You can buy the book here.)