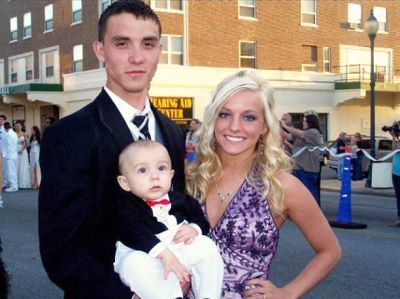 It's been reported around the Teen Mom News Atmosphere that Teen Mom 3 stars Mackenzie Douthit and Josh McKee are getting married today. The Ashley can report that Mackenzie is not walking down the aisle today as numerous *cough* "journalists" *cough* are reporting.
Mackenzie and Josh, who famously called off their wedding–twice!–over the past few years, are indeed getting married this time. In fact, today is the day of Mackenzie's wedding shower, not the actual wedding. The couple will be walking down the aisle on August 17 at a venue in Kansas.
The couple seem to be doing well. Their son, Gannon, will turn 2 in September and rumor has it that Josh and Mackenzie are looking to buy some property in their hometown of Miami, Oklahoma.
The news that Mackenzie was getting hitched today started when someone saw Mackenzie's 'Teen Mom 3' co-star Briana DeJesus had tweeted about wanting to attend the festivities and wrote about it.
The Ashley knew the real date so she instantly knew this was wrong. (That's why you don't write a whole article centered around one tweet, guys. OK, I'm done being a tart-nugget.)
No word if we'll get to see Mackenzie's wedding on the second season of 'Teen Mom 3.' According to The Ashley's sources, they have not started filming for a second season yet, but it's almost a given that they will get another season, so we'll likely get to see Mackenzie and Josh's nuptials. I wonder if Josh will wear a tux with the sleeves cut off?
(Photo: Facebook)