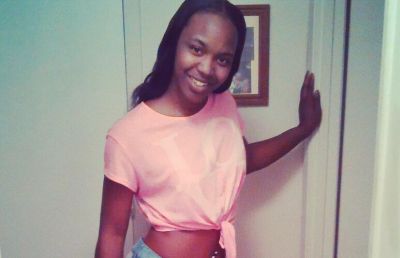 We watched her give birth to her daughter, Za'karia, during the second season of 16 and Pregnant. Later that year, in a "Very Special Episode" of the show, we watched as Markai revealed that she had gotten pregnant again shortly after her show aired and went through getting an abortion. (The "16 and Pregnant: No Easy Decision" special was deemed so controversial that MTV only aired it one time!)
And now? Markai may be pregnant….again!
Markai, who will turn 22 in December, recently hinted that she is once again "with child" and, this time around, plans to keep the baby. Apparently, she deeply regrets her decision to have an abortion back in 2010.
(Please excuse the language!)
And get an abortion think that s**t won't eat your soul up I'm a prime F**KING EXAMPLE it's not RIGHT

— IG:FoxieBrown813 (@MarkaiOfficial) July 17, 2013
But i guess i can't be a hypocrit huh ? Just tell you i wish i never done it wish i was strong enough to not let a man make the decision 4me — IG:FoxieBrown813 (@MarkaiOfficial) July 17, 2013

She also hinted that she is once again pregnant on her ask.com account. (Is this like new Formspring? The Ashley is old, please someone explain it to her!)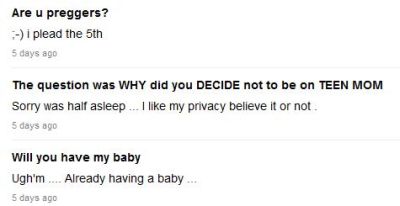 No word on who the potential baby-daddy could be. Markai is still close to her first baby-daddy, James, but they are no longer together.
Of course, Markai would not be the only person from '16 and Pregnant' to find themselves pregnant again shortly after they appeared on the show. A ton of other girls from the show, including Danielle Cunningham, Leah Messer, Jordan Ward and Ebony Jackson (to name just a few) have had a second child since their time on MTV. In fact, Season 2's Nikkole Paulun is due to give birth to her second child any day!
(Photos: Twitter, ask.com)