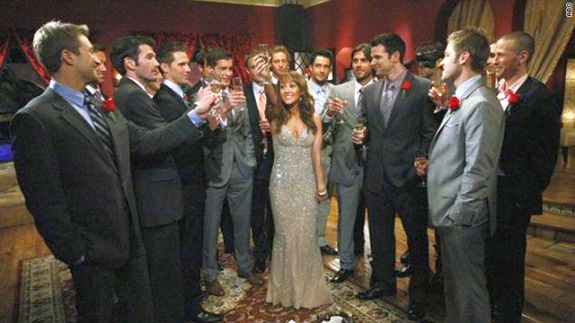 The Ashley gets a lot of reality-show-related questions on her Twitter, Facebook and in the comments sections of her posts. Because she loves all of her pals in Internet Land, every once in a while she likes to gather up some of the questions about a particular show that have come her way from readers and do research/interviews/general creeping to find answers to them!
Since we are approaching the season finale of The Bachelorette, The Ashley figured she would do a third "FAQ" article about the show to complete her trilogy. (Click here and here to read the first two "Answers to Your Frequently Asked 'Bachelor' Questions" articles!)
Special thanks to those of you that sent in questions to The Ashley for this article! If she gets enough questions that have not been answered in the past articles, she may bust another one of these out someday.
Also, The Ashley has done "FAQ Answer" posts for several other shows. She will post the links at the end of this article!
 On with the questions….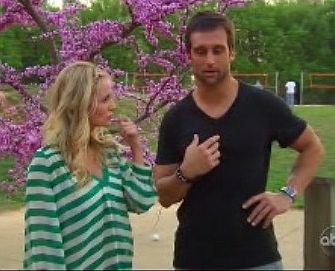 Q: Do the guy/girls that go on the show have to be screened for STDs, or do any other sort of testing?
A: Yes! If you want to be on 'The Bachelor' or 'Bachelorette' you have to be venereal-disease-free. According to Chris Harrison, the contestants have to undergo  STD and psychological tests. (Nearly every reality show on television makes its contestants undergo some sort of psychological testing, just FYI!)
Of course, that doesn't stop them from letting in a few crazies to keep things interesting!
Q: Can the Bachelorette say no if a guy tries to steal her away from another guy during a date?
A: Apparently, they can, according to Season 6 'Bachelorette' Ali Fedotowsky.
"You can say no if you want. But it is really hard to say no," she revealed on her E! Online blog. "All of these guys are there for you and giving up certain things in their lives to be there for you. So it's really hard to turn them down when they want time with you…It is the worst when someone comes and pulls you away from a guy you really like."
Q: Do the producers make contestants do things?
A: Yes, according to many former contestants. Molly Mesnick claims that a producer threatened to have Jason send her home if she didn't say what they wanted her to say.
"The very first group date we were on we had this pool party and there was a talent competition and a producer pulled me aside and said 'Go pull Jason away and tell him that your special talent is making out,'" she said on the podcast she does with her husband. "And I was like, 'I'm not doing that, that's the most ridiculous thing in the world' and she said, 'Well, if you don't, then I won't give you any one-on-one time with Jason and then he'll end up sending you home.'
Click here to read more about that incident!
Jesse Csincsak, who was chosen during Deanna Pappas' season of 'The Bachelorette,' also claims that producers make the contestants do and say certain things.
"When you are on a one on one date, producers will walk wherever you are looking (out of camera frame) with a piece of paper that says (kiss her) or whatever they want you to do!" he told Hollywoodlite.com recently.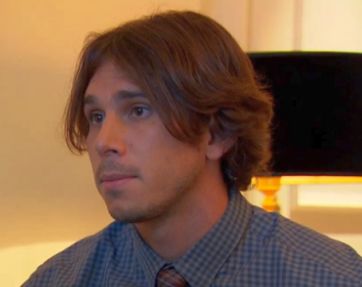 Q: Does the Bachelor/Bachelorette get to call their family or friends during the season?
A: No! Like the contestants, the Bachelor or Bachelorette is also kept sequestered from their loved ones. The producers want to keep everyone involved in a type of 'Bachelor Bubble' that's void of outside influence.
"I do wish that I had the ability to call my friends and family throughout the show to get their advice. Don't get me wrong, Chris Harrison was great, but there were so many moments when I really needed to hear my mom and dad's voice or needed to confide in my bestie," Ali Fedotowsky said in her E! Online blog.
According to another former 'Bachelorette,' Jillian Harris, it gets very lonely without anyone but production people to talk to.
"No one knows what it's like until they go through this experience, but to have cameras around all the time, to never be alone with your thoughts, and to be away from phones, computers, magazines, and the news, is difficult, so having someone to chat with is PARAMOUNT!" she said in a recent blog for Parade.
Obviously, exceptions were made for the stars, like Jason Mesnick and Emily Maynard, who had children. They were allowed to speak to them as frequently as possible.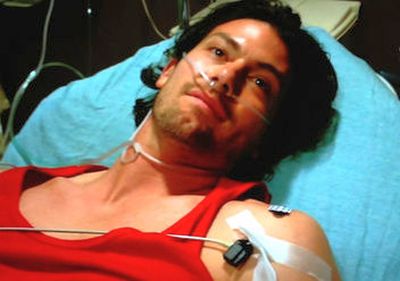 Q: Who pays the medical bills for a contestant that gets injured during a date?
A: That depends, according to 'Bachelor' franchise expert Reality Steve. Apparently, if the injury is the result of the guy/girl participating in a date (i.e. Brooks breaking his finger in dodgeball) then the show will pay all of the contestant's medical expenses. However, if the contestant injuries himself while horsing around (i.e. getting drunk and tripping and breaking a bone), they (and their personal insurance company) are responsible for footing the medical bills.
Q: Do the guys know what to expect when they arrive at a rose ceremony?
A: No, according to Chris Harrison. "We never show this, but the guys don't know how many are going home at each rose ceremony," he told TV Guide. "They find out when they walk in the room and see how many roses are there. The number is really up to the Bachelor or Bachelorette. We need a certain number of people to carry on, but she could've cut more next week it's really up to her."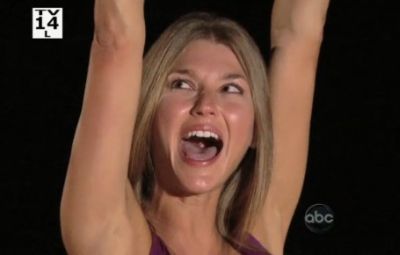 Q: How much time do these guys/girl actually get to spend with the Bachelorette/Bachelor? Do they get to spend time with them off-camera?
A: Despite the fact that many of the people on this show declare their undying love for each other, they actually barely know each other, says Ali Fedotowsky.
"Everyone I've met from this show admits that they didn't actually fall in love on the show, but after the show," she said on her E! blog. "Because you don't really know the person when you're on the show. You spend about a total of 12 hours together in the first two months of the show and it's under very strange circumstances."
The contestants do not spend any time off-camera with the Bachelor/Bachelorette. What you see is the only time they get with them. They do not travel together.
 Q: (This question is from The Ashley's own mother!) What happens to the guys once they get cut? Are they sequestered until the end of filming or do they get to go back home?
A: As soon as the don't get a rose the guy/girls that are cut are shipped back home. They are not held anywhere until the end of the filming, and do not move on to the next location. They are sent back home to their lives the next day. They are not permitted to discuss anything that happened while they were on the show, however, because of their confidentiality contract.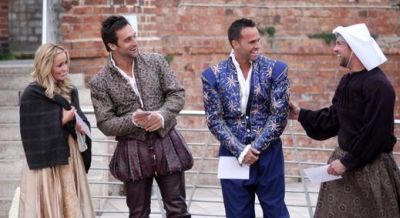 Q: Do the girls/guys get to go sightseeing when they aren't on dates with the Bachelor/ette?
A: No, according to Ali Fedotowsky.
"I remember feeling so bad for my guys when they were cooped up in the hotels while I got to explore Iceland, Istanbul and Portugal. Can you imagine being in a beautiful country having to spend 75 percent of your time stuck in a hotel room? On top of that, you're with a bunch of other guys trying to date the girl you like! It goes without saying that it can get a little tense in there."
 Q: Do the producers ever warn the Bachelor/Bachelorette about a bad guy/girl? Why don't they let them watch the footage so they know who's a scumbag?
A: According to Chris Harrison, he and the producers try not to interfere, unless things become really bad.
"We don't step in and say, 'That's the wrong decision.' We never do," Chris said during Ashley Hebert's season in regards to bad boy Bentley. "She was privy to some of the information. I had many conversations with her about this and so did the producers but she defended him every step of the way. She never heeded any of the warning signs…I don't know what steps we would have taken if this had gone on any longer or if we would have finally just shown her his interviews."
Do you love reading these "FAQ Answer" articles as much as The Ashley loves writing them? You're in luck, because there's a lot more where this came from!
Click here to read the "Answers to Your Frequently Asked Survivor Questions" article!
Click here and here to read the "Answers to Your Frequently Asked Sister Wives" article!

Click here to read the "Answers to Your Frequently Asked Questions about MTV's The Challenge" article!
(Photos: ABC)