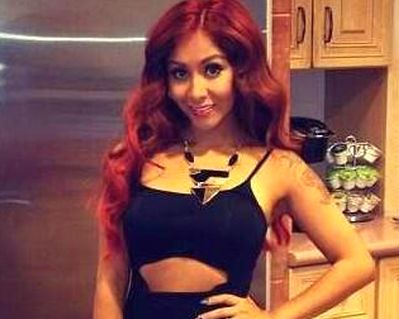 She was part of the cast that helped make the Jersey Shore famous, but apparently Snooki is no longer welcome anywhere near the Shore.
A homeowner in the private Pelican Island neighborhood (across from Seaside Heights) caused quite a stir when he alerted his neighbors that he planned to rent his beachfront property to Nicole "Snooki" Polizzi, her fiance, Jionni LaValle and her son Lorenzo. (Oh, and MTV, of course!) The couple planned to film the third season of Snooki & JWOWW (or possibly fourth season, actually) at the house.
The people of the town, which was ravaged by Hurricane Sandy in 2012, have made it clear that they are not ready for Hurricane Snooki.
"We don't need the likes of Snooki and the people who surround that kind of situation like they had in Seaside Heights," one resident told NJ.com. "Plus we don't like the people coming here, rioting in the streets and trying to get a picture of Snooki or whoever it is….this is a nice community. This is not that zoo that's over there!"
Of course, anyone that's got a glimpse of Snooki's Instagram can tell that she's not the same fall-down-drunk-and-flash-your-lady-bits gal we knew back in the 'Jersey Shore' days. Her Instagram photos show her life today, which basically consists of working out, hanging with her son and making money. However, the Pelican Island residents don't seem to care that Snooki probably won't be "cooka flashing" while in their 'hood. They still don't want any part of her.
"I don't care what it is. I don't want the reporters…" the same guy says. Apparently, many other neighbors agree, and some are afraid that the MTV circus will hinder their rebuilding efforts.
Snooki, of course, commented on her excommunication from the Shore community on her Instagram.
Unable [to understand] how adults are trying to ban my son, fiancé and I from enjoying our summer at the shore. Grow up, get over yourself and move on. This is not how we should be treating one another. Absolutely sick and very sad. I pray for you. There's much bigger things to worry about in life than trying to ban my family from your neighborhood.
What the Snook-ster fails to mention is that it's not just a happy family vacation that has neighbors up in arms. They will actually be filming the show at the house. The Ashley sides with the neighbors on this one!
(Photos: Twitter, Instagram)