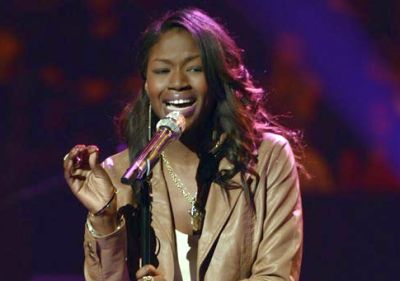 Someone call MTV!
American Idol Season 12 finalist Amber Holcomb took to her Facebook page to announce that she is expecting her first child. The 19-year-old is currently on the American Idol Season 12 tour.
Apparently Amber caught some flack after posting a sonogram photo to her page, with several people mentioning that the unexpected pregnancy will kill her career. One commenter even wrote, "If you fail 2 plan, you plan 2 fail" (Um…Barbara Evans, is that you!? Don't worry you don't have to take care of this one, Babs!)
Amber had enough, and finally decided to rip her negative Facebook commentors a new one, posting:
"I'm happy…That's all that matters…in the end it's gonna be me and my child and whoever else wants to be there for us. I didn't ask for this, but I consider it a blessing…"
Amber got went straight 'Jerry Springer Show' on a Twitter follower who dared to make a negative comment to her. (Excuse the bad language!)
@AmberHFanss is not over honey. I have talent which will NEVER GO AWAY. You need a life..GTF!..don't worry bout me. Ima be good..

— Amber Holcomb (@AmberAI12) August 4, 2013
The baby daddy is Amber's boyfriend, Lamar Denson, who, like Amber so eloquently said in her Twitter posts, does indeed have a job. He works at a Texas Target. (And no— The Ashley isn't hating on Target or the people that work there…so don't even start or I'll go all "Amber" on you!)
Congrats to Amber!
(Photo: FOX)