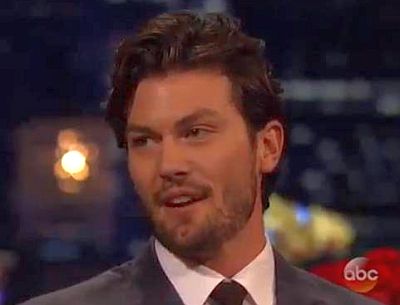 Brooks Forester may not have even appeared in Monday's Bachelorette finale (except for at the After the Final Rose, of course), but he was certainly the talk of the night. Most of the viewing audience (The Ashley included!) kept waiting for ol' Brooky to sudden realize his burning passion for Desiree and come charging back to Antigua, just in time to sweep off her feet—and away from Chris Siegfried.
However, as we all saw, none of that happened, and Des ended up giving her heart to the man that was left of her dreams, Chris.
On Tuesday, producers wheeled Brooks out for the final time for a conference call with journalists. Naturally, The Ashley was on that call, and was able to listen as Brooks answered all of our tough questions.
Hopefully, reading Brooks' answers below will help you "find closure," as they say in 'Bachelor Speak!'
Q: Did he ever plan to come back? Did he ever regret his decision to dump Desiree?
A: Apparently not, according to Brooks.
"No that was never an option…never my feelings after making that decision," he said. "I felt like I made the right decision going into that. I didn't have a moment where I felt I should go back and rehash things out with Desiree… I look back and say I know that's the right decision and I knew that was the right decision going into that conversation with her."
Um…I'd just like to interject…. #Rightdecision #RightReasons…..OK, moving on….
Q: Did he read the spoilers that said that he had won?
A: 'Bachelorette' fans (including The Ashley, of course) had probably all heard that Brooks would be the eventual winner. Reality Steve, who usually spoils the entire season down to a T, insisted that, although Brooks left, he would somehow be the eventual winner.
Apparently, those spoilers made poor Brooks' life hell for the months leading up to the finale.
"Yes, the last two months have been – have been difficult," Brooks told us. "Everybody assumes that we're together and has a conversations with me and I don't like eluding to anything, you know, I have to play a very fine line… And that's just not a comfortable line to tow, so I'm glad that that's over, I'm really glad to see the end of this shooting come to an end."
Q: Does he think it's weird that Desiree went from completely devastated over their breakup to getting engaged very soon after?
A: As diplomatic as Brooks tried to be, it's obvious that he, like the rest of us, thought Des' actions were a bit odd.
"To say there was no surprise at all would be a stretch," he said. "I don't know what her process was. You know, I wasn't there to see what exactly it is that she was realizing and going into that conversation I was hoping she was somewhat conflicted. So I guess in retrospect I am a little surprised, but not entirely, but I don't know what she was going through prior to that moment and having me gone if that created clarity for her or more confusion, either or."
Q: Was he disappointed that he wasn't chosen as the next 'Bachelor?'
A: Apparently, ol' Brooks wasn't very interested in keeping up with the reality TV love shenanigans.
"You know, after watching Desiree firsthand and the process that she went through, emotionally taxing, there was some discussion early on and when they had asked me initially my response was no," he revealed. "We had multiple conversations about it and they said, 'We think we're going in a different direction anyway,' so that there wasn't much to consider for me in that arena so that decision was pretty easy."
Looks like his ass got dumped in favor of Juan Pablo!
Q: Will he attend Desiree and Chris' wedding?
A: Um…awkward, party of one! Just seat him at the 'Ex-boyfriend' table along with Sean and Catherine! Apparently, Brooks agrees.
"I don't think [I'd go]," he said. "Out of respect for Chris and for Desiree that would just feel like it would be awkward. I myself would go if they were entirely comfortable, but that's a weird circumstance."
Want to read The Ashley's recap of the finale episode? Click here!
Want to see what Drew thought about all this? Click here!
Want to see a photo of a young, short-haired Brooks? Click here!