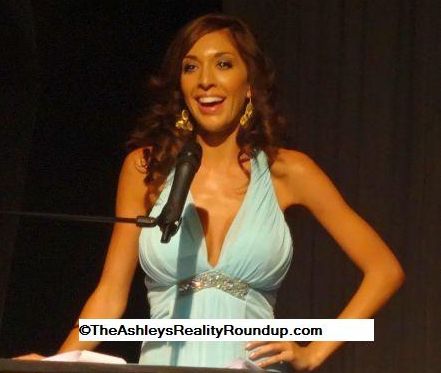 Teen Mom/p0rn star Farrah Abraham was the epitome of idiot when she hosted the EOTM Awards on August 4 in West Hollywood. Naturally, The Ashley was in the audience to watch the trainwreck as Farrah stumbled through hours and hours of painstakingly hard-to-watch mishaps.
She did, however, give us an idea of what we can expect from her in the near future. Although she didn't mention any more sexy-time films, she did warn us that we can expect to see her mug on our televisions and her screeching voice on our radios very soon.
"I'm also working on new things like an XFM radion show, another show,another novel" Farrah told the crowd. "I think that's also what keeps us going is innerly [I'm sorry what? That's not a word, hun.] growing ourselves."
She also used the opportunity to brag about how much money she made from her backdoor p0rn flick and its promotional tour, telling the audience, "Money isn't everything but, you know, I've got it. It was a negative, now it's a positive."
Yes. That happened.
The crowd, which was full of entrepreneurs, performers and random people who I have no clue who they were, were less-than-thrilled with her comment. She also bragged about her endorsement deal with raspberry ketones.
She ended her impromptu self-love speech with, "It's pretty impressive for being a 22 year-old."
If she does say so herself.
Stay tuned, The Ashley will be post more photos and videos from Farrah's hosting gig!