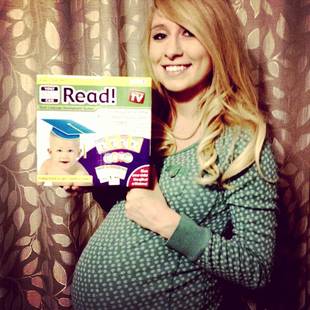 For months, 16 and Pregnant season 2 star Nikkole Paulun posted photos of her growing baby bump on her various social media accounts and excitedly spoke about the birth of her second child, a baby boy she planned to name Ashton. So it's no wonder that when a mysteriously no-longer-pregnant Nikkole posted photos of herself in a bikini (sans new baby), fans were wondering what was going on. Many even wondered if she had actually faked the whole pregnancy for attention.
For weeks, Nikkole refused to comment or speak about the pregnancy, baby or anything related to it. However, she has finally broken her silence to Radar Online (who most definitely coughed a bit of cash for the scoop), and has revealed that she was, indeed, pregnant and that she had delivered a baby on July 27. Unfortunately, earlier that day her doctors had discovered that her baby, who was due to be born on August 25,  no longer had a heartbeat.
"We saw a doctor to try and find the heartbeat and they couldn't find it," she told Radar. "But I thought I still felt him moving, so they took me for an ultrasound and they weren't letting me look at it when they did it."
After the doctors finally told her that she had miscarried, she delivered the stillborn boy and decided not to find out what had caused his sudden death. (She did, however, make a point of letting everyone know that the hospital had run drug tests on the baby to make sure Nikkole hadn't killed it by using drugs, and it came back negative.) Still, she decided to keep the whole thing a secret until now.
"I didn't want to tell anybody," Nikkole said. "I fought so hard to keep him that I was just ashamed and embarrassed."
Also important to note is that Nikkole has claimed on her Facebook page that there is a lot more to this story, however she is unable to say anything about it, which tells me 1) she sold the rest of the story to a magazine that will be coming out soon or  2) MTV is going to do some some sort of special about it. Not sure which it is, but I'd bet my right arm that one of these two things will be happening in the near future!
Nikkole is already the mother of three-year-old Lyle.
(Photo: Instagram)