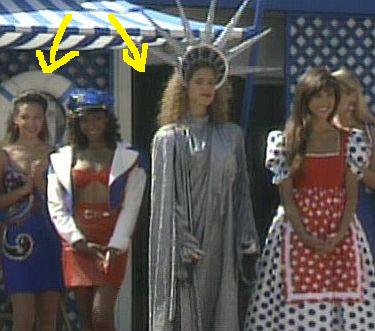 The Ashley is dying!
Although it is still unconfirmed, TMZ is reporting that not one but two former stars of The Ashley's favorite show of all time, Saved by the Bell, will be foxtrotting their asses off on the upcoming season of Dancing with the Stars! According to the site, Elizabeth Berkeley (who played class president Jessie Spano) and Leah Remini (who played Stacy Carousi in the epic "Malibu Sands" episodes) have been cast for this season, along with Snooki, Christina Milan (from The Voice) and Amber Riley of Glee.
In case you didn't know, The Ashley has been creepily obsessed with "Saved by the Bell" since she was a mere tot. Not only has she taken the blue ribbon in many a "SBTB" trivia contest (don't judge me!) but she watches it all the time. Despite the fact that The Ashley hates "Dancing with the Stars," she will put her dislike aside to watch Jessie and Stacy square off!
Of course, this won't be the first time these two went head-to-head in a competition. True "SBTB" will remember that Jessie and Stacy competed against each other in the Miss Liberty contest. ('Member when Zack was trying to bone Stacy, but then she got all mad when he voted for Kelly during the pageant?!)
The network will be announcing the official cast list on September 4, so The Ashley will have to wait until then to see if her "SBTB" square-off dreams have come true. Is it wrong to kind of hope that Elizabeth gets really overwhelmed with her dancing schedule, perhaps turns to her trusty caffienne pills and ends up taking a dark turn. Perhaps, something like this….
Needless to say, The Ashley is "so excited" about this prospect!