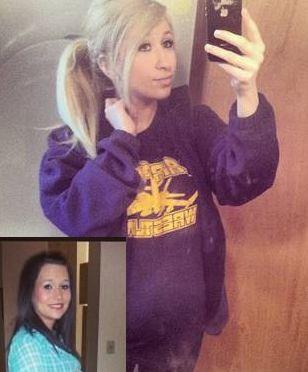 What in the Sam Hell is going on here?! The Ashley wanted to avoid going down the rabbit hole on this but…this is just too strange not to write about.
Yesterday, Nikkole Paulun (of 16 and Pregnant Season 2 fame) "came clean" to Radar Online about what happened with her mysterious second pregnancy. Nikkole, who, for months had been posting photos and tweets about being pregnant with a baby boy, revealed to the site that she suffered a heartbreaking miscarriage during the last month of her pregnancy.
She had previously kept quiet about why she was mysteriously not pregnant anymore, and refused to comment on what happened to the baby. (Of course, once Radar coughed up a couple hundred bucks, Nikkole was quick to talk).
The Ashley has been skeptical about this "pregnancy" from the beginning, but since the Radar story came out yesterday, readers and Twitter friends have been contacting The Ashley, informing her that Nikkole was never pregnant, faked her sonogram photographs and sold Radar a sack of crap. (The Ashley loves when her readers get all "Nancy Drew" and dig into a story, by the way!)
Today, another bombshell broke when Nikkole's best friend, Samantha Diggs, called into the Real Teen Mom Talk radio show (yes, apparently this exists!) and revealed that Nikkole's pregnancy was fake from the very beginning. Yesterday, Sam went on the show and stuck up for friend, but apparently she's had a change of heart since then and decided to confess the whole thing.
"I can't, in my heart, lie for her anymore," Sam told the show. "I have a daughter, it brings tears to my eyes. I can't do it. She didn't have a baby."

Sam went on to reveal some very interesting things about how Nikkole faked her entire pregnancy.
"Nikkole, the whole time, she was saying that she was pregnant," Sam said. "I had suspicion that it wasn't true but I never really questioned it. I could tell the way her belly was, when anyone would go to touch it, she'd freak out."
According to Sam, Nikkole confessed that her pregnancy was fake by showing her the fake belly she had been wearing. (Seriously— are we in the Twilight Zone here?!)
"She said that she did this, she's doing it for money," Sam revealed, adding that Nikkole faked her positive pregnancy test results by having her pregnant cousin pee on the stick. (The Ashley has confirmed that Nikkole's cousin did, in fact, recently have a baby.) She also got her ultrasound photos from Google.
One of The Ashley's readers sent over proof that the photos Nikkole was trying to pass off as her own sonogram photos were actually just lifted from other women's blogs. (As weird as this sounds, it would be very easy to do. The Ashley, who sucks at this kind of stuff, did a science experiment and found that, with a little help from Microsoft Paint, she, too, was able to produce a convincing-looking sonogram photo.) Read this link for more information about the sonogram photos!
"Girls (fake pregnancies) all the time," Sam said. (They do?!!) "But for you to fake a baby's death? Something is wrong."
Why would Nikkole do this? Other than the prospect of getting money for selling the story (which, trust me, would probably only be between $400-$1,000 per story, even though Sam said she got $2,500– Nikkole isn't a big star) it certainly would not be enough to warrant all of this! Sam suggests that Nikkole was hungry for attention.
"The fame really went to her head, and I think it really bothered her when it started to go away," Sam says.
According to Sam, Nikkole's mom, Rikki, whom she lives with, is aware that Nikkole was faking her pregnancy. (The Ashley reached out to Rikki but has yet to receive a response.)
While we really shouldn't give two craps about this, it is extremely bizarre and creepy.
What do y'all think of this!?
Listen to the entire interview here!
UPDATE: The site that runs the Real Teen Mom Talk radio show has discovered even more damning evidence against Nikkole. Yesterday she submitted hospital documents to Radar Online to "prove" that she had, indeed, had a stillborn baby. (Read the article and see the documents here.) It appeared to look semi-legit until the sleuths over at this site stepped in and discovered that the documents were actually from Nikkole's son, Lyle's, birth! The lil' Nancy Drews over there went back to Nikkole's 16 and Pregnant episode and took a screenshot of Nikkole's hospital bracelet. They then discovered that the account number on Nikkole's hospital bracelet from having Lyle matched the account number on the documents she submitted to prove this second baby had been delivered!
This story keeps venturing deeper and deeper into the Twilight Zone! Below is the photo they posted.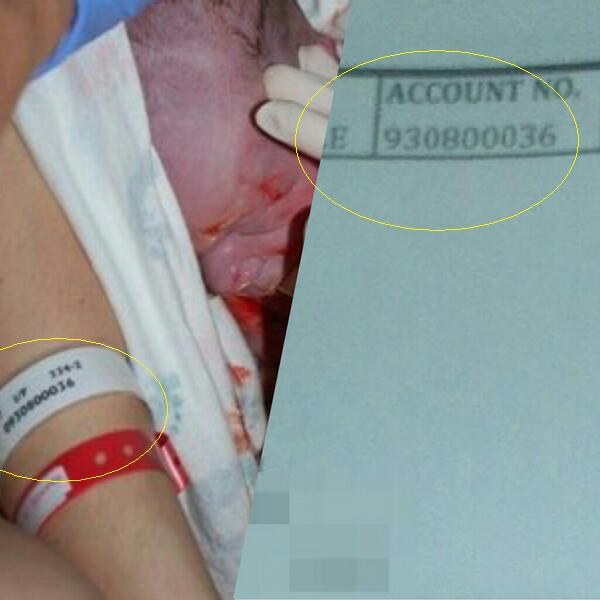 (Photos: Facebook, Instagram)