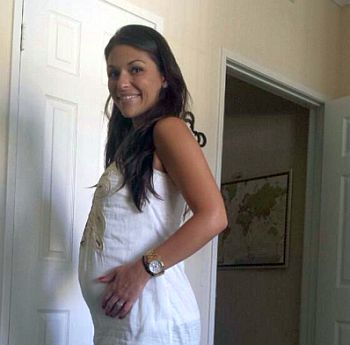 Yet another child will be able to thank Mike Fleiss and the Bachelor franchise for its existence. Former Bachelorette DeAnna Pappas has announced that she is pregnant with her first child!
Although DeAnna did not meet her husband, Stephen Stagliano, on the show, she did meet him because of 'The Bachelor.' Stephen's brother, Michael, appeared on Jillian Harris' season of 'The Bachelorette.' DeAnna met Stephen while both were attending the Season 5 Men Tell All taping.
According to DeAnna's tweets, the baby is due February 8, 2014.
The parents-to-be have been receiving a lot of love from the 'Bachelor' community. However, producer Elan Gale wins for funniest "congrats" tweet:
"@theyearofelan: @StephenStag @DeAnnaPappas can't believe you guys started having sex and didn't tell me :(" I die. I freaking love you Elan

— DeAnna Stagliano (@DeAnnaPappas) August 29, 2013
One person that hasn't reached out– yet? Jesse Csincsak, the man DeAnna chose during her season of 'The Bachelorette.' The couple ended their engagement shortly after Jesse proposed. (He is now married to a woman named Ann, who, ironically, appeared briefly on Jason Mesnick's season of 'The Bachelor.')
This is the fourth baby to come out of the 'Bachelor' franchise. Original 'Bachelorette' Trista Sutter has two children with the man she met on the show, husband Ryan; and earlier this year Jason and Molly Mesnick welcomed a baby girl.
Congrats to DeAnna and Stephen!