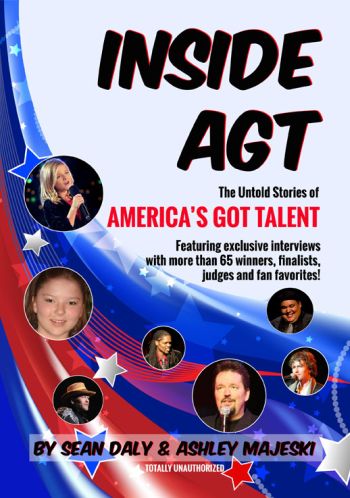 Howdy Roundup readers!
It's been awhile since The Ashley has written to you directly– the last time being when she released her first book, Teen Mom Confidential back in April. The Ashley is writing again because she's excited to announce that her second book is being released today!
The Ashley has once again teamed up with television reporter Sean Daly to bring you awesome behind-the-scenes stories of one of your favorite reality shows: America's Got Talent!
Right after Teen Mom Confidential was released, we got to work on our second book, with a goal of being able to release it before this season's finale episode. We accomplished our goal and are so proud of the work that has resulted. Inside AGT contains interviews with more than 65 AGT winners, contestants, judges and more. We searched high and low to find out whatever happened to some of the people we loved on AGT, and this book contains their fascinating stories of life after a reality show.
We spoke to the show's biggest names: Jackie Evancho, Bianca Ryan, Piers Morgan, and so many more popular acts and artists. What they told us was incredible! If you watch this show, you will love this book (if I do say so myself— haha!) 
Thank you all so much for supporting me in all my endeavors. Your response to Teen Mom Confidential was so amazing and humbling, and a huge THANK YOU to all of you that continue to visit my site frequently. It makes me so excited to know that there are so many awesome people out there that share my crazy love of dumb reality shows! (We are not alone, kiddies!)
I hope that you will enjoy this book. If you're interested in ordering Inside AGT, it is currently available on the website www.agt-book.com and on Amazon (click here)! It will be available for Kindle very, very soon! To read a sneak peek of the book, click here!

(If you're interested in ordering our first book, Teen Mom Confidential, click here!)
Again, thank you from the bottom of my reality-TV-loving heart!
-The Ashley