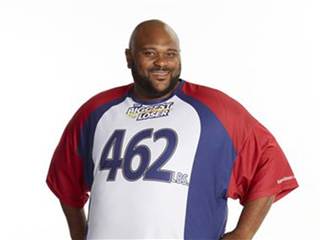 Back in June, The Ashley  got the chance to go to the Biggest Loser Ranch in Malibu, California, and interview all of the contestants (and trainers!) that will be featured on the upcoming season. One of the best interviews was with Season 2 American Idol champ, Ruben Studdard, who will be a contestant on the show this season.
Ruben was awesome– very laid back and extremely funny. The first thing he told The Ashley when she asked him why he decided to go on the show? "Because I'm fat as hell, that's why!"
Anyway, Ruben, who arrived at the Ranch weighing 462 lbs., told The Ashley that the other Season 15 contestants were pretty surprised to see an 'Idol' champ walk through the door on the first day.
"They were most definitely shocked to see me when they came in the room, but that wore off really fast because the next day we were all here getting our butts whooped (by the trainers)," he said.
To read the rest of The Ashley's interview with Ruben, click here!  The Ashley also interviewed some of the other Season 15 contestants and straight-out asked them if they planned to give Ruben the boot first since he doesn't need the prize money. Here's what they told me!
(Photo: Paul Drinkwater/NBC)