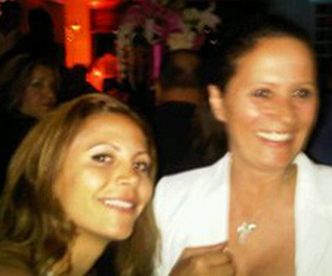 Last month, the entire Bachelor Nation was shocked when Gia Allemand, who appeared on Jake Pavelka's season of The Bachelor, as well as two seasons of Bachelor Pad, was found barely clinging to life after she attempted to hang herself with a vacuum cord in her New Orleans apartment. She was later taken off of life support and passed away on August 14.
Since her death, there have been rumors circulating around InternetLand about what caused Gia to take such a drastic measure.
A few days after Gia's death, her mother, Donna Micheletti, gave a statement to People magazine, informing them at some point should would be speaking about her daughter's death.
"After the funeral, I do intend to speak about my dear daughter's life and death, and will do so in an open disclosure way with a trusted media source," she told the magazine.
Apparently, that time is now. According to Reality Steve, Donna will appear on the Dr. Phil Show on Tuesday, September 10 to discuss what happened to her daughter.
Also reported to be part of the episode? Jake Pavelka, who dumped Gia on 'The Bachelor' in favor of Vienna Girardi. (No surprise there; Jake loves to get his mug in front of the camera. Since he hasn't spoken to Gia in quite a long time, I wonder what he could possibly contribute to this conversation.)
In a written statement to RumorFix, Donna explained why she decided to go on Dr. Phil to discuss her daughter's death.
"I wanted an opportunity to tell my daughter's story and give some background into Gia's struggles," Donna said. "My hope is that talking about Gia's death will be helpful for our family and be a message to others in emotional pain. As a respected professional, Dr. Phil was the best choice in having this conversation. We are very grateful for the opportunity to communicate through Dr. Phil's platform."
Will you be watching this very special episode?