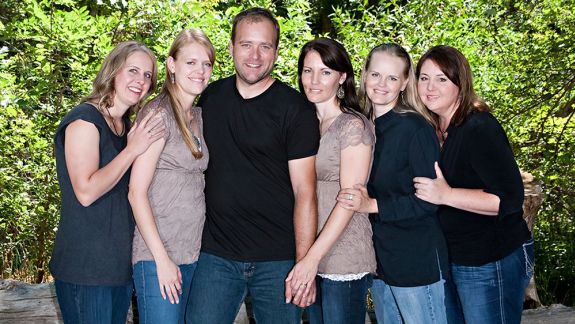 Here's the story of a man named Brady who was busy with…five wives of his own?!
TLC, the network that brought us Sister Wives, has announced that it will air a one-hour special featuring  Brady William and his five wives—Rosemary, Robyn, Rhonda, Nonie and Paulie. The polygamist family, which has a combined total of 24 children, will take viewers inside their family compound in Salt Lake City, and even discuss some of the taboo issues (Sex schedules! Bedroom details!) that the Brown family of "Sister Wives" has refused to talk about.
The one-hour "My Five Wives" special will also touch on issues such as jealousy between the wives (two of which are cousins) and the reasons behind their jump to polygamy from the mainstream Mormon Church. According to The Wrap, who broke the story, the family has received a fair share of hostility from people that don't understand their unique lifestyle.
"Though their beliefs and their decision to leave their church have led them to be shunned by their community and estranged from many family members, the Williams believe their sacrifices are worth it."
The family sent a message to their potential haters on their brand-new official Facebook page:
"We are aware that our lifestyle is different from some other families and even controversial for some folks, but like many families in America, we love each other, support each other, share, fight, laugh and succeed," the family posted in their Facebook page bio.
TLC has scored big ratings with "Sister Wives," and is rumored to be considering making "My Five Wives" into a regular series.
The special airs Sunday, September 15 at 9/8c on TLC, right after "Sister Wives!" Will you be watching?
 (Photo: TLC)