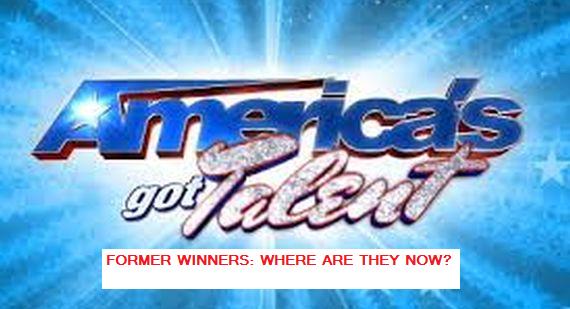 Editor's Note: This post was updated on June 13, 2014.
There have been eight performers–from a ventriloquist to a pint-size singer, that have been named the winner of America's Got Talent since the show premiered in 2006. Some have gone on to great fame and fortune, while others have struggled to maintain their career.
Want to know more about what these winners have to say about their time on "AGT"? Get more in-depth updates on these winners,  in addition to other 'America's Got Talent' favorites such as Jackie Evancho, Prince Poppycock and Nuttin' But Stringz in the new book Inside AGT: The Untold Stories of America's Got Talent, which features interview with nearly all of the show's former winners, as well as over 60 other former contestants and judges!
Find out the true stories of what goes on behind the scenes of the show— from backstage conditions to the horror stories the contestants tell of the management company the winners are forced to sign with!
The book is available on Amazon and Kindle, and will be available on iBooks very soon. Click here to purchase the book!
Whatever became of the former winners of 'America's Got Talent?' The Ashley investigates!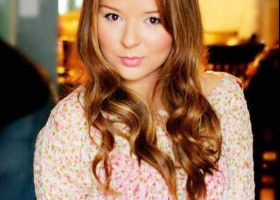 SEASON ONE WINNER:  11-Year-Old Singer Bianca Ryan
Then: She was the tiny girl with the big voice that blew everyone away during the first season of 'AGT.' She took home the million dollar prize when she was crowned the show's very first winner.
Now: Now 19 years old, Bianca is currently in college and will star in an upcoming independent movie called "We Be Kings." In March 2014, she performed at Madison Square Garden during a March Madness game.
SEASON TWO WINNER:   Ventriloquist Terry Fator
Then: Terry, a showbiz veteran who had been trying to catch his big break for years before auditioning for "AGT," beat out reggae singer Cas Haley to take the season two crown. Audiences loved his singing puppet act.
Now: Terry is now the most financially successful "AGT" winner to date. He currently headlines a show at the Mirage Hotel in Las Vegas– a gig that netted him a reported $100 million. (In May 2013 he celebrated his 1,000th show at the Mirage.) He recently released a new concert DVD in which he sings popular rock 'n' roll songs. He is currently touring the country promoting that DVD.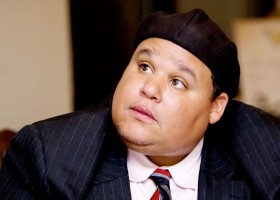 SEASON THREE WINNER:  Opera Singer Neal E. Boyd
Then: Baby-faced opera singer Neal E. Boyd amazed "AGT" fans with his renditions of "Nessun Dorma" and "All by Myself."
Now: Now 75 lbs. lighter since his "AGT" days, Neal continues to focus on his weight loss goals, while working on a new album. In 2012 he entered politics, running for a seat in the Missouri House of Representatives, but lost. He is currently in the running to become the Missouri state representative for District 149.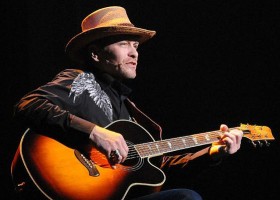 SEASON FOUR WINNER:   Country Singer Kevin Skinner
Then: The chicken catcher from Kentucky surprised everyone during the fourth season. Hillbilly Kevin wowed audiences with his beautiful voice and renditions of songs such as Garth Brooks' "If Tomorrow Never Comes."
Now: After releasing his debut CD in 2010 and a live album in 2011, work has been slow for Kevin, who had been playing gigs at casinos and clubs. Last year he became a grandfather for the first time.
Then: "AGT" fans were shocked when Las Vegas lounge singer Michael Grimm defeated tiny opera prodigy and fan favorite Jackie Evancho on finale night.
Now: After dealing with a terrible management company assigned to him by "AGT" producers, Michael has finally stepped out on his own. He released a critically praised solo CD and is currently touring the country. He will open for the band Heart during a concert in July 2014.
SEASON SIX WINNER:  Jazz Singer Landau Eugene Murphy Jr.
Then: Landau impressed the show's judges and fans with his smooth, Sinatra-like vocals. The former car wash worker from West Virginia beat shadow dancers The Silhouettes to take the season six crown.
Now: Since winning, Landau has performed to sellout audiences all over the country. In November 2011, he released his first CD, "That's Life," which peaked at No. 34 on the U.S. charts.
In November 2013, he released his autobiographical book, Landau: From Washing Cars to Hollywood Star. That same month, Landau released his Christmas album, "Christmas Made for Two" on his own label. He continues to tour the country.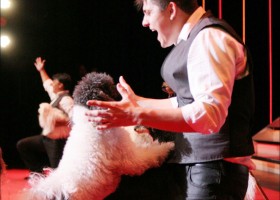 SEASON SEVEN WINNER:   The Olate Dogs
Then: Judge Sharon Osborne— and much of America–went wild for Richard and Nick Olate's dancing dog act. The performing pooches took the crown over comedian Tom Cotter on finale night.
Now: Since winning the million dollar prize, the Olate Dogs have continued to perform all over the country at numerous gigs and state fairs. According to Nick, the dogs received a new travel trailer and numerous luxury upgrades after their win! All of the dogs from the show continue to perform and live with the Olates. The group's most recent gigs include doing halftime shows at pro basketball games. They will tour the United States and Canada throughout 2014.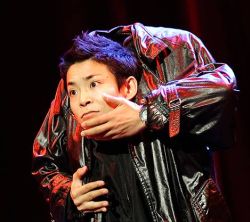 SEASON EIGHT WINNER:   Kenichi Ebina
Then: The martial artist/dancer wowed America with his elaborate routines. In September 2013, he became the first dance act to win 'AGT'.
Now: Kenichi now splits his time between the United States and his native Japan, and is often flown around the world to perform at corporate and private events. Since his 'AGT' win, he has appeared on variety of international television shows and in March 2014, he did a college tour. In the beginning of 2014, he announced plans to release a book about "about my thoughts, strategy, philosophy, etc through my career." No release date has been given.
Want to read The Ashley's other "Reality Stars: Where Are They Now?" posts? Click here.