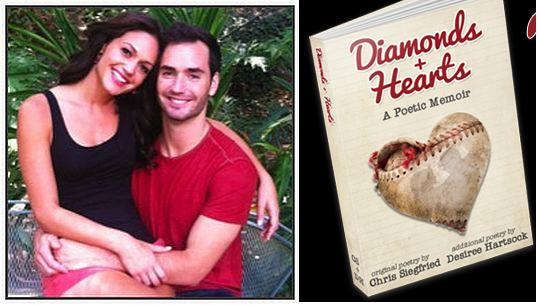 If you loved the crappy poetry that Chris Sigfried and Desiree Hartsock were constantly busting out during the last season of The Bachelorette, you're in luck! The couple has released their first book– yes, a whole book!– of their craptastic love poems. Most of the poems were written by Chris, but the book, called Diamond + Hearts: A Poetic Memoir,  does contain "additional poetry" by Des herself.
I'll give you a second to catch your breath and recover from this amazing news.
Anyway, if you're truly masochistic and would like to order yourself up a copy, you can do so on Amazon by clicking here: Diamonds + Hearts: A Poetic Memoir
.
But here's where it gets really fun (and kinda creepy!)
If you decide that one copy of this masterpiece is not enough, you can order yourself fifteen copies and get both Chris and Des to sign your book, and follow you on Twitter! Yes, kids, Des and Chris will both follow you if you buy 15 of their books. Not only that but they will give you a shoutout on Twitter so that you can retweet it and look cool to all of your friends, who, unbeknownst to them, will all be receiving a copy of Diamonds + Hearts for Christmas/Secret Santa/their birthday/any possible chance you have to unload these beasts.
However, if you really want to get friendly with Chris and Desiree, you just have to cough up enough for 50 copies and you'll get a 10 minute phone call with both Des and Chris! (In addition to all the goodies listed above!)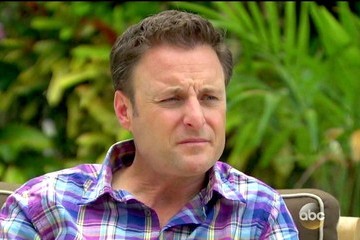 And if that's still not enough, if you buy 100 copies, you will get a Skype session with our newest 'Bachelorette' couple! For 30 glorious minutes, you will be beamed into the couple's Seattle apartment, via Skype, to ask all of those burning questions you've always wanted answers to!
Don't worry; there's also an option for the true high-rollers! If you purchase 2,500 copies (yes, you read that right) you will earn yourself a dinner with Chris and Desiree! They'll fly you out to Seattle, put you up in a hotel for the night and treat you to some Olive Garden, where you can talk poetry over breadsticks and cheap wine!
A gal over at The Stir did the math for us (because we all know The Ashley can't do the adding and what not) and calculated that it would cost a person over $32,000 to purchase 2,500 copies of this book and get the trip to Seattle to meet Chris and Desiree.
OK guys– how many copies are you going to buy?! Unless there's a poem in there about how Chris wants to pluck out Brooks' hairs one by one because he knows that his fiance is still secretly in love with him, I'll pass.
(Photos: DHPoetry.com, ABC)