Tonight marks the final episode of MTV's The Challenge: Rivals II! The remaining teams will face off in "the toughest final ever," according to MTV; however they say that every year. (Is it even possible to have a harder final than the one that took place in Iceland for "Battle of the Exes?")
One of The Ashley's favorite 'Challenge' contestants ever, C.T., is still in the running for first place so, in honor of tonight's finale, The Ashley has composed her top five "C.T. Moments" of all time. C.T. always brings the entertainment when he's on a 'Challenge,' and he's usually epic in the finales, so The Ashley's excited to see what happens!
Here are the best C.T. moments…so far:
5) C.T. Wears Diem's Underwear (Battle of the Exes, 2012)
For some reason, The Ashley thought this was absolutely hilarious— and pretty sweet, in a creepy way. During the "Sh*t They Should Have Shown" episode for "Battle of the Exes," Diem and C.T. recount how, during the final, they mistakenly believed they had to strip down to their undies to run through a freezing cold lake in Iceland. (They didn't realize that they were going to be allowed to wear long john underwear and wetsuits!) When Diem starts freaking out because she's wearing a thong and it will be shown on national TV, C.T. takes one for the team and wears his ex-girlfriend's thong so she can wear his boxer shorts.
"It's not fitting at all," Diem tells us of C.T. trying to squeeze his Boston beans into the skimpy underwear. "Multiple members are out!"
That's true love there!
4) C.T. Turns Johnny Bananas Into a Backpack

This was one of the all-time classic "Challenge" moments! C.T. entered the arena during 2010's "Cutthroat" and, after literally flaring his nostrils like a bull in heat, proceeded to pick Johnny Bananas up (they were strapped together) and Godzilla-walk with him on his back all the way to the finish line, while everyone just stood there with their mouths hanging open! Afterwards, C.T. removed his Johnny backpack, while Johnny hung his head in shame!
3) C.T. Hysterically Threatens Wes For Hours (Rivals, 2011)

When C.T. finds out that Wes is planning to take him out of the game, he explodes in an hours-long rambling tirade that includes him threatening to steal money out of his pocket off-camera (um?) to smashing his head, before he finally just starts chanting "Die! Die! Die!", all while Wes sits there yawning and looking completely bored by the whole conversation.
2) C.T. Gives Diem a Final Hug (Rivals II, 2013)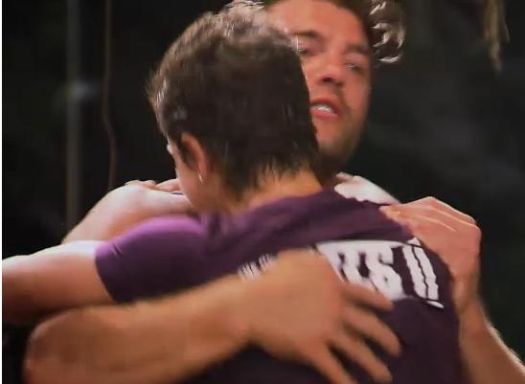 You know you kept rewinding this over and over again, too! (I know I'm not the only romantic sap out there!) Diem and Aneesa were competing in the last Jungle for a spot in the current season's final. Earlier, Diem had said that she had felt like C.T. had used her in order to get himself further in the game and the two weren't on the best terms the night Diem and Aneesa went into the jungle. They ended up losing, and Diem went over to the other contestants (who were standing on a bridge above her) to say goodbye. When she got to C.T. he lifted her up for a final hug and it was obvious to everyone watching that, despite their problems, there is still a lot of love between them. (I tried to get a clip of just that hug but I suck at video editing. Here's the episode link, scroll to the 8:43 mark and watch!)
1) C.T. Literally Tries to Kill Adam (The Duel II, 2009)
There's no doubt that the best C.T. moment –and honestly one of the best reality TV moments ever–was the fight between C.T. and Adam King during "The Duel II." We've seen many people on these shows fight but never quite like this! C.T. was not acting tough for the cameras. He, in fact, was trying to kill Adam, something he might have accomplished had producers not stepped in when they did. The two had already gotten into a fight during "Real World: Paris," so it didn't take much to get them in each other's faces. C.T. cold-cocks Adam, and then proceeds to chase him around the house, trying to "smash his head!"
What are your favorite C.T. moments?!