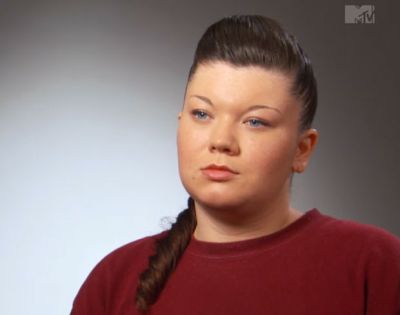 Teen Mom star Amber Portwood is about to be released from prison, The Ashley can exclusively reveal! Amber, who entered the Rockville Correctional Facility in Indiana in June of 2012, after being convicted of domestic battery on baby-daddy Gary Shirley, as well as possession of a controlled substance, is going to be released a lot earlier than it was originally thought.
The Ashley was tipped off by a source that Amber is scheduled for release on or very close to November 6, 2013. (It may even be a few days earlier, the source says.) She was originally sentenced to five years in the state prison, but Amber has been working hard to get out of prison early.
Another source very close to Amber has confirmed to The Ashley that this is true.
Although she is scheduled to be released on November 6, this is the prison system, so something could go wrong between now and then, but as of now, Amber's scheduled to be released.
In July she did an interview with Radar Online in which she talked about finally getting her GED.
"I did my TABE testing for my GED placement and I did really well. I scored in the advance book so I was very excited. So now I'm in GED classes on weekdays," Amber told Radar. (She took her GED test in August, and, given the early release, it looks like she passed!)
Amber's brother Shawn Portwood told Radar that Amber was doing fantastic in prison.
She has done so well in her CLIFF program that she is now the head facilitator," Shawn said.
"She said she deals with all of the scheduling now and gets to pick the teachers for them," he said. Amber said she thinks of it as like a principal of a school."
No word on if Amber will return to Anderson, Indiana, the town she was living when she was arrested, or if she will move near her brother in Tennessee.
Update: Amber's brother, Shawn, has posted this on an Amber Facebook fanpage in response to this story:
Possibility of a media uproar so I just want to be the first to say before it is heard in the tabloids that Amber will be released soon. She has done everything required to be released long before the five year sentence. Congratulations sis, and I know that you will do everything we talked about. You now have control of your future and from what I know it looks bright. – Shawn Portwood