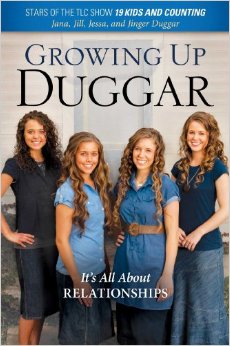 Ever wondered what it would be like to share a bathroom with 18 brothers and sisters? (Um…hell, I'd imagine.)
The four oldest Duggar daughters: Jana, Jill, Jessa, and Jinger plan to reveal that, and more in their upcoming book, Growing Up Duggar: It's All About Relationships, set to be released in March 2014. The 19 Kids and Counting stars will supposedly "open up about the blessings and advantages of living the Duggar lifestyle."
So basically we will get to know how they all really feel about their mother, Michelle, popping a kid out of her baby-maker every year.
You'll also get to find out what it's like to date, Duggar-style.
"Learn how the family navigates the difficult years between twelve and sixteen and what the girls look for in a man," the books summary says.
Jessa Duggar recently entered into a courtship with a boy, which means that her days as a baby-making machine are approaching quickly.
"Courting is getting to know each other in a group setting, both families spending time together and the couple setting goals together to determine if they are meant to marry," Jim Bob told People magazine. "With dating, a couple will often pair off alone and that sometimes leads to a more physical relationship."
"All of our family is involved in this relationship," he added. "It is an exciting time."
Nothing like having 22 people watching you and your boyfriend's every move!
For the Duggar gals, a courtship means finally being able to "sidehug" their man. However, all other hanky-panky like "real" hugging and kissing, are reserved for marriage. In addition to relationships, the girls will also discuss "their own personal faith and convictions, boys, dating, manners, living in a large family, politics, and much more."
The book is currently available for pre-order. Click the link below to snag your copy.