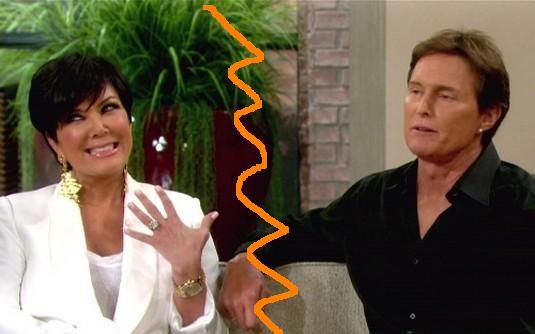 The tabloids have been stumbling all over each other for the good part of two months now, trying to be the first one to break the story that Keeping Up With the Kardashians stars Kris and Bruce Jenner had split up. Just last week, In Touch scored an exclusive interview with Kris' sister, Karen, in which she claimed that Kris and Bruce's marriage was over and that the couple was living apart.
While many wrote the "Crazy Aunt K" interview off as tabloid gossip, it seems that, for once, it was all true. Yesterday, Kris herself gave a statement to Us Weekly confirming the split, which the magazine made public today.
"We are living apart," she said in the statement. "But there is no animosity. We are united and committed to our family…We ended a marriage, but that's not the end of our friendship," she told Us. "I will always love him, but we are no longer a couple in that way."
"We are happier this way," Kris told Us, adding that she and her family had kept the split secret for a year! They have not, however, filed for divorce yet, according to the magazine.
Us Weekly is literally like Kris Jenner's sixth daughter so it's no surprise that she chose to give the first statement to them. (Seriously, if you are ever bored and want to play a fun game, you can play "Count the Kardashians" in a stack of Us Weeklys. I actually do this every week. Do not judge me!)
The couple also issued a joint statement via E! News:
"We are living separately and we are much happier this way. But we will always have much love and respect for each other. Even though we are separated, we will always remain best friends and, as always, our family will remain our number one priority."
All I hear is "Blah, Blah, Blah."
Naturally, the entire Internet (or at least all of us that don't have lives) is up in a tizzy over the confirmed Jenner/Kardashian split. However, the couple's children have yet to comment on the breakup on their social media accounts. They're still busy hawking their Kardashian tanning products and various crappy TV shows.
Two days ago, however, Khloe Kardashian, whose own marriage is currently in the crapper, had some choice words for her family's nay-sayers.
Speculate all you want. The armor I put around MY family can't melt or even scratch. So continue to throw your daggers. (1)

— Khloé (@KhloeKardashian) October 7, 2013
You will never cut us, you will just tire yourself out. Strong and united we will still stand.

— Khloé (@KhloeKardashian) October 7, 2013
Except, you know, when you're separated.