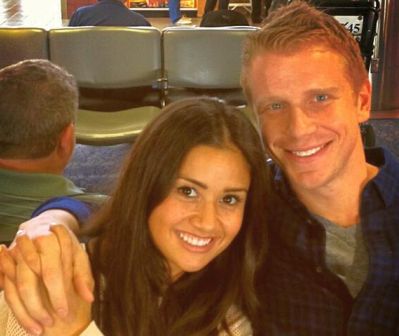 It's official! We have another Bachelor wedding on the horizons!
Former 'Bachelor' Sean Lowe and his made-for-TV fiance Catherine Giudici have confirmed to People magazine that they will marry on live TV on Sunday, January 26! While Sean and Cat will join Trista and Ryan Sutter, Molly and Jason Mesnick and Ashley and JP Rosenbaum on the list of 'Bachelor' couples to get married on-air, this will mark the first time the ceremony is actually shown live as it happens.
"I think it's only natural to have it on TV seeing as how our relationship started," Sean told the magazine. "This will be a cool opportunity to share the most special day of our lives with all the people who have been invested in us along the way."
Not to mention that it's also an opportunity to have ABC fork over the cash to pay for the whole thing!
The couple, who got engaged in Thailand during the Season 17 finale, gave the magazine a few details that had already been decided: there will be 12 bridesmaids (no doubt a few from Sean's season), they will write their own vows, and Catherine plans to wear a "non-princessy" gown. They've also outlawed the show's trademark flower from sneaking into their wedding.
"No red roses," Catherine told the magazine. "We've turned a corner!"
Who can we expect to attend the nuptuals? Well, naturally, the producers will once against foist Trista and Ryan Sutter upon us, as well as newest 'Bachelorette' couple Desiree Hartsock and Chris Sigfried, and most likely several girls from Sean's season. (I mean, who doesn't want a bunch of their ex-girlfriends at their wedding?!) I'd also put my money on seeing Juan Pablo's mug there. Though he has nothing to do with either Sean or Catherine, as the newest 'Bachelor' star, he'll certainly attend to help with promotion of the new season.
Will you be watching the live wedding?! You know The Ashley's going to be all over this one!
(Photo: Twitter)