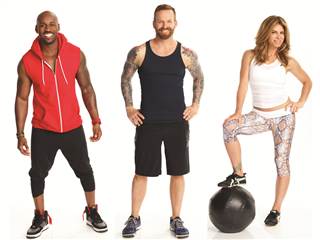 In June, The Ashley got to go to the famous Biggest Loser Ranch in Malibu, California to interview the show's trainers and upcoming Season 15 contestants! During the interviews, the trainers revealed that this was the first season that they were allowed to be involved in the casting of the contestants.
"In any other reality show, whether they're helping somebody sing or helping somebody model, the coaches have been able to select who they believe they can help," Jillian Michaels told The Ashley. "We're going to help somebody completely overhaul their physique and their self image, and yet for 14 seasons we've never had a say!"
"There were a few [contestants] that made it through, based on network decision, that I wish had not," she said. (Of course, The Ashley tried to get Jillian to spill on which contestants she was talking about, but she wouldn't!) "I specifically said 'no' but … here we all are."
In case you hadn't heard, this season of 'The Biggest Loser' will include American Idol Season 2 winner Ruben Studdard.
To read the full story and see what the rest of the trainers told me about this season, go to Today.com by clicking here!
(Photo: NBC)