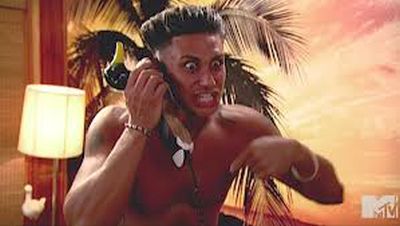 Apparently all that "smushing" the Jersey Shore cast members did during their wild days is starting to catch up with them. Today, TMZ broke the story that DJ Pauly D has a secret love child! The baby girl, born a few months ago, lives in Atlantic City, New Jersey, with her mother, whom Pauly met while DJ'ing in Las Vegas. According to Us Weekly, she used to work as a Vegas cocktail waitress and was a one-time "smush" for Pauly.
According to In Touch, the baby's name is Amabella, which is Latin for "loveable."
Pauly D has confirmed that the story is, indeed, true, telling Us Weekly, ""I'm proud I'm a father," he said. "I am excited to embark on this new part of my life."
Pauly and Snooki are the only 'Jersey Shore' cast members that are parents…at least, that know they are parents. (With all the hook-ups that happened in the 'Shore' house, there's bound to be a few more 'Jersey Shore' spawn running around!)
"YAY so happy for Pauly!!" Snooki told Us after the new broke. "Now Lorenzo has a girlfriend! Pauly will be an amazing father."
The race is on between the tabloids to find the identity of Pauly's mystery baby-momma! Maybe MTV will give her and Pauly their own epically bad spin-off show!
UPDATE: The baby-momma has been revealed! Click here to see photos of Amanda Markert, the woman who gave birth to Pauly's child.
(Photo: MTV)