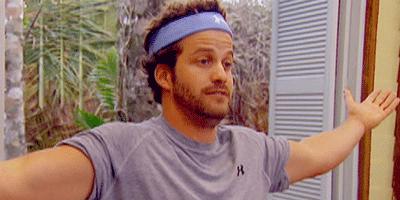 It's official: the next cast of MTV's The Challenge has left and is currently filming! The new season, which started filming in Uruguay this week, according to the sleuthy folks over at Vevmo, is already off to an exciting start, according to the show's host, TJ Lavin.
Wow I just wanna go on record and say this is the best start to a challenge I've EVER seen!!!! Be ready!

— TJ Lavin (@tjlavin) October 27, 2013
The sleuths at Vevmo are to be commended. They have figured out the cast, based on social media posts, locations of the cast members and other assorted ways. Unfortunately, the cast looks way too similar to the 'Rivals II' cast for The Ashley's liking. She was hoping to see some people that haven't done a 'Challenge' for a while, instead of the same old tired faces. <Cough> Aneesa <Cough> Johnny Bananas…
According to Uruguay newspaper El Observador, the cast was filming at the Montevideo World Trade Center on October 22. During the 'Challenge' the cast members were seen on the roof of the buildings
"In the challenge they had to cross a kind of "stick soaped " from side to side, on top of the building," the newspaper reported.

According to Vevmo, here is the cast that we can expect to see on the next 'Challenge':
-Brandon Nelson (Fresh Meat II)
-Chet Cannon–and his bowties (Real World: Brooklyn)
-CT Tamburello (Real World: Paris)
-Cohutta Grindstaff (Real World: Sydney)
-Dustin Zito (Real World: Las Vegas)  [He's fresh off his appearance on VH-1's "Couple's Therapy]
-Frank Sweeney (Real World: San Diego)
-Johnny Bananas (Again?!!? I'm tired of seeing this guy's mug!)
-Johnny Reilly (Real World: Portland)
-Jordan Wiseley (Real World: Portland)
-Leroy Garrett (Real World: Las Vegas)
-Ty Ruff (Real World: DC)
-Zach Nichols (Real World: San Diego)
And for the ladies…
-Aneesa Ferreira (Real World: Chicago…and every single 'Challenge' since)
-Camila Nakagawa (Spring Break Challenge)
-Cara Maria Sorbello (Fresh Meat II…I mean, what else would Cara be doing other than starring on 'Challenges'?)
-Devyn Simone (Real World: Brooklyn…thank goodness because she cracks me up!)
-Emilee Fitzpatrick (Real World: Cancun)
-Jasmine Reynaud (Real World: Cancun)
-Jemmye Carroll (Real World: New Orleans)
-Jessica McCain (Real World: Portland)
-Jonna Mannion (Real World: Cancun)
-Latoya Jackson (Real World: St. Thomas…if only it were that other Latoya Jackson– now that would be a show!)
-Laurel Stucky (Fresh Meat II)
-Nany Gonzalez (Real World: Las Vegas)
-Nia Moore (Real World: Portland)
-Theresa Gonzalez (Fresh Meat II)
Surprisingly absent from the cast is Paula Meronek, who rarely, if ever, misses a 'Challenge.' Maybe she will manage to weasel herself into the cast halfway through the season or something.
What do you think of the rumored cast?