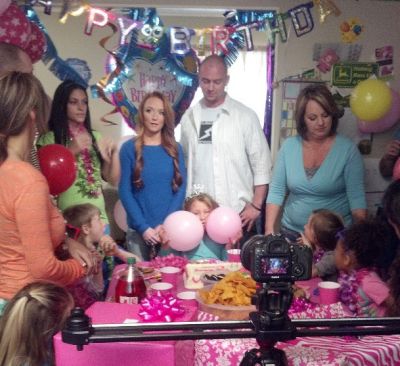 Teen Mom star Maci Bookout recently gave fans a glimpse at her post-'Teen Mom' life in the "Being Maci" MTV special. While Maci has said that there will be no more reality TV in her near future, The Ashley has exclusively learned that we will, indeed, be seeing Maci again soon!
The Ashley has all the details on Maci's next starring role– a music video for Tennessee rap artist The Instigator! The video, which will be released on February 14, 2014, stars Maci as a young mom who is trying to make her daughter's father be more involved. In the griping video, Maci throws her daughter a birthday party and tries to get the little girl's father to come, but he is too interested in partying to notice how his absence breaks his daughter's heart.
(Listen to "Emma's Song" here.)
"Maci has been a great supporter of the events and through shows & several mutual friends," Steve "The Instigator" Matherly told The Ashley. "The script for the video [is] based on real events in his life and [he] instantly thought of Maci to play the mother. Being a fan of the song and story, [she] agreed to film it."
The video, which was shot over the course of three days, had a theme that Maci was all too familiar with.
"Maci agreed to do the video because she believe it can change lives and she thinks that the song is like a story of her own life!" the artist, The Instigator told The Ashley.
'Teen Mom' fans watched Maci struggle to get her real-life baby-daddy, Ryan Edwards, to become more involved in their son Bentley's life during the first few seasons of the show. He has since come around and is active in his son's life.
The video was shot in Soddy Daisy, Tennessee, back in April. After The Instigator posted a few photos on his social media accounts of Maci shooting the video, the 'Teen Mom' world flew into a tizzy trying to figure out what Maci was up to. According to The Instigator, Maci will be promoting her work in the video via her social media sites and may even appear in future videos with him.
"If a script comes up that fits her I believe she would do it again," he told The Ashley.
The Ashley has seen the video, which is not being released to the public yet, and she can tell you it is very moving! More info will be posted on The Roundup about this as it becomes available!
(Photo courtesy of The Instigator)