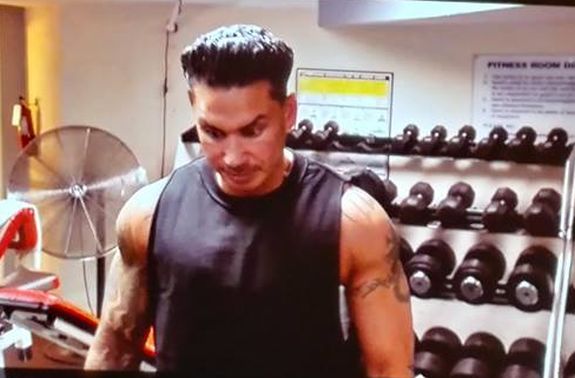 The tabloids have been going mad since news broke earlier this week that Jersey Shore star DJ Pauly D had been keeping the secret that he fathered a baby girl named Amabella. The mother, Amanda Markert, is a former Vegas cocktail waitress that Pauly hooked up with once– and ended up knocking up.
Since the story leaked, the press has been having a field day, releasing photos of the baby and Amanda. Before the story broke, Amanda had been living in New Jersey and had kept the baby's famous father a secret. Pauly apparently wanted Amanda to have an abortion– and even wrote her a check to pay for the procedure– but she refused to do it. She did use Pauly's check, however, for prenatal care, but claims that he has not sent any more money since the baby's birth in May.
So yes it paid for ONE ultrasound, Blood work, and proof of pregnancy. I paid for 9 months of doctors appointments following….

— Amanda L. Markert (@A_Markert) October 25, 2013
Apparently he wrote a check and sent it a few days ago just to show the media the copy of it…publicity stunt.

— Amanda L. Markert (@A_Markert) October 25, 2013
Today, Radar Online reported that Amanda had been letting another man believe that he was the father of Amabella. He apparently found out via the press that the kid was actually fathered by Pauly. (Ouch!)  Amanda took to her Twitter account to tell what she says is the complete truth about what happened between her and Pauly, and called him out for using their daughter for media attention.She also claims that she never hid her pregnancy from Pauly, and that he has never tried to see the baby.
I love my children more than ANYTHING in this world. The chaos he has created is a shame.

— Amanda L. Markert (@A_Markert) October 25, 2013
Calling her a 'love child' in the media. Does he not realize she will read all of this later on?! And how damaging it will be!?!

— Amanda L. Markert (@A_Markert) October 25, 2013
Amanda, who tweeted that this has been the worst week of her life, has been battling with Pauly in the media, but seems to be ready to call a truce with the reality TV star.
…And I know the importance of having both parents involved. I hope he ends this war and starts making the right choices.

— Amanda L. Markert (@A_Markert) October 25, 2013
(Photo: Instagram)