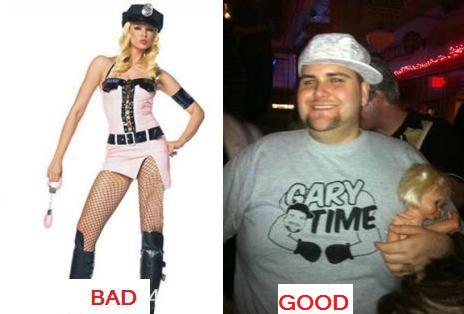 It's almost Halloween! This is The Ashley's favorite time of year because it means that you can be creepy without having people call the cops on you!
Anyway, this also means that you will need to gussy yourself up in a Halloween costume. Now, you can be like 90 percent of the girls out there and dash on over to the local party store and suit yourself up in some atrocious Insta Ho costume from Leg Avenue. (The Ashley isn't sure what the latest designs are but she's sure you can probably pick up something like a 'Sexy Baby' or 'Slutty Zebra' costume.)
However, The Ashley prefers to be unique with her Halloween costuming. She also wants to help you stand out from the crowds of 'Feisty Firewomen' or 'Racy Red Riding Hoods' (ugh), so she is going to provide you with some ideas for fun costumes, all inspired by your favorite reality TV shows!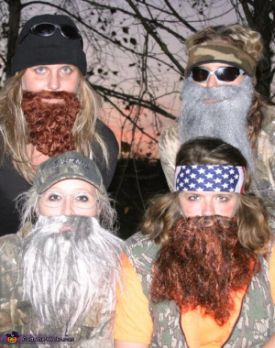 Duck Dynasty (Cross-dresser Edition)
The Ashley expects to see plenty of guys that are going to grow out their beard and slap on a camo shirt and say they are dressed as someone from 'Duck Dynasty.' However, The Ashley thinks this would be especially funny if a group of girls decided to say 'Duck off!' to the sexy Halloween costumes and dressed as the Robertson men.
The costume should include: camo shirts and hunting vests, bandanas and plenty of stick-on hair to create a beard. (Or, if you are "lucky" enough to be hair-inclined, just don't get waxed for a few weeks!) One person needs to make sure to carry around Uncle Si's signature blue cup!
Backdoor 'Teen Mom'
A few years back, The Ashley gave a tutorial on how to dress as your favorite 'Teen Mom' stars. While those costume ideas are still awesome, dressing as Farrah "Backdoor Teen Mom" Abraham will require a little more effort.
Your costume should include: giant knockers (you may have to use 2-3 socks in each cup to get them equal to Farrah's twice-enhanced rack), a video camera attached to your hand at all times (how else will you film all of your annoying Keek videos and/or capture everything that happens in your life and be able to sell it to the tabloids?)
Other required accessories to make this costume work? The signature "Farrah" bikini, which she wore on the cover of her sexy-time movie. It's also a good idea to carry around a few photos of your daughter Sophia yourself, since, as Farrah, that is the only thing that would really matter to you.
Lastly, you must make a trap door on the back of your bikini bottom. Anyone who has seen Farrah's video knows what that's for!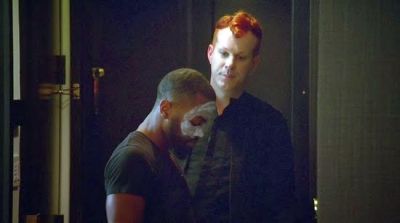 'Project Runway' Face Mask Feuders
In what The Ashley considers to be one of the most epic reality TV catfights/freakouts in recent times, Ken Laurence of 'Project Runway' Season 12 got bitchy with fellow contestant Alexander Pope, all while wearing a hydrating facial mask. Their fight caused Ken to go batsh*t crazy, breaking mirrors, screaming and threatening to walk out.
This is a great costume for two people: one gets to be Ken, and one gets to be the strangely-eyebrowed Alexander. The person dressing as Ken should be wearing freshly ironed jean shorts ("jorts") and a white face mask, while carrying an iron. If you're going as Alexander, you will need to white out (or just shave 'em, honey!) your eyebrows and use a red lipliner to draw them back on. Your hair must be dyed a brilliant shade of orange. Walk around the Halloween party screaming, cussing and breaking stuff!
Need more reality TV-inspired Halloween costumes? Click here and here! Don't forget to tweet The Ashley photos of you in your costume— you may end up on The Roundup!
(Photos: Twitter, Leg Avenue, Lifetime, Vivid)